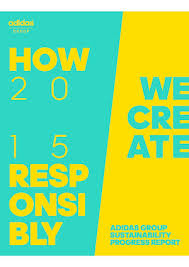 Dailycsr.com – 29 April 2016 – The group of Adidas has brought out its "Sustainability Progress Report" for the year of 2015. The report is titled "How we create responsibly" and enlists an "overview of achievements" and challenges that has been met in the year of 2015.

Moreover, the year of 2015 brings an end to the six year "strategic period" which began in the year of 2010. Furthermore, the report gives an introduction to Adidas' new schematics of aims to be met by the year of 2020. The upcoming project is being titled as "Sport needs a space".

The current report informs about how life has been instilled into the "new Sustainability Strategy" which has come directly from the broad business strategy of "Creating the new", whereby translating Adidas' "overall sustainable efforts" into substantial measurable goals.

According to Ethicalperformance, the highlights of Adidias' 2015 sustainability report include:
"The adidas Group suppliers' social & environmental performance as tracked through KPIs has seen a significant improvement.
"The SMS Worker Hotline, launched at the end of 2012, was expanded to a total of fifty-eight factories across Indonesia, Cambodia and Vietnam, covering roughly 263,000 factory workers.
"Since 2010, employee volunteering hours achieved a total of 150,000.
"Better Cotton has increasingly been sourced, with the company now sourcing 43% of all its cotton as Better Cotton. The company is well on track to source 100% of cotton across all product categories in all its brands as "sustainable cotton".
"The increasing use of virtual samples allowed the Group to save 2.4 million physical samples between 2011 and 2015.
"While initially aiming to certify five of the company's sites globally, the adidas Group now has 13 sites with ISO 14001 certification.
"Important partners the company has started to work with in the period of 2010-2015 are: Sustainable Apparel Coalition (SAC); Zero Discharge of Hazardous Chemicals (ZDHC); bluesign® technologies; Parley for the Oceans.
"This year's report is available online as a PDF. Additional information about the Sustainability Strategy is available on the adidas Group website".