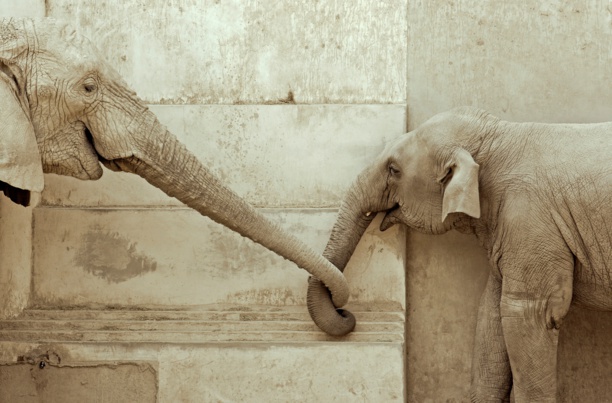 Ingimage
As an operating principle, development of strong client relationships is usually based on building a strong perception of honesty, loyalty, understanding and diligence. According to researchers, trust "empowers and enables cooperation and decision-making, engenders the atmosphere of openness and transparency, enhances communication and motivates and joins people together." Just that! But how does it occur concretely in your company, on a daily basis?
"One of the critical steps in cultivating trust is knowing who you are and knowing your potential value to your clients", says
Robert Moment
, author of Invisible Profits: The Power of Exceptional Customer Service' and 'It Only Takes a Moment to Score'. For him, "the relationship that forms because of this can have a tremendous impact on your sales. People don't just buy from anyone. They buy from people they can trust. The rapport and credibility you can establish with the trust factor go a long way toward building a client's confidence in your ability to meet his business needs."
Yann Magnan
, Managing Director at leading global financial advisory firm Duff & Phelps, agrees with Moment on this point. His company provides large corporates, private equity and hedge funds as well as family offices with corporate finance services, such as valuation and M&A advisory. Consequently, all the talk is about trust, as Yann Magnan explains. "Our clients are typically C-level executives and board members; you can imagine how demanding they can be. They are constantly under pressure to make the right decisions and they expect us to be able to help them making these decisions."
The same focus and criticality of trust is exhibited in the words of
David K. Williams
, an entrepreneur and author of 'The 7 Non Negotiables of Winning: Tying Soft Traits to Hard Results'. "What sets us apart, I believe, has been our willingness to be transparent in our journey. We own our failures, we learn from them, and we share them publicly so that others can learn from our failings as well, which has helped us to bounce back higher than before when we fall," says Williams.
Business experts generally observe that it is important to send a message to clients and customers that you care about more than profit alone and hence you deserve their trust. This, they say, can be achieved by continuous ethical behavior that sends a message to clients about your intention to develop a relationship of trust. Delivering on commitment is one of the ways to develop corporate trust. Trust is created when a firm acts according to certain standards that are professed by them.
"Trust in business enjoys two main benefits. The first is with your clients. If they know you are honest and direct with them, they usually are willing to work through challenges with you, and they won't hesitate to be a referral source when things go well. The second benefit is that authentic collaboration will take root within your firm. The earned trust of clients and employees serves as the basis of a strong business, and it has served our firm well for five decades," says
Arthur Gensler
, an architect and founder of Gensler, a leading global design firm.
Another example of this is found in the words of
Robert A. Bartell
, Managing Director at Duff & Phelps. At the company, which now ranks 1
st
amongst global fairness opinions providers, corporate culture demands strict integrity and it starts from the top – with the managing directors. "The company believes in telling the truth and providing advice independent of our potential fee outcome is real integrity," Bartell explains. Duff & Phelps' managing director stresses this crucial point: "integrity is more important to us than profits (…) Some of the largest clients in the firm, have been our clients for 30+ years, because they know we're a long-term partner."
A
Trust in Business
survey in 2009 showed that those firms that have self-assessed high levels of leadership capability, collaboration, and trust enjoyed a premium in their stock's price and earnings ratio of over 25%.
Andy Atkins
, the Chief Innovation Officer of Interaction Associates, a global leadership development firm headquartered in Boston, explains: "In 2012, looking even more closely at companies with highly engaged and highly involved employees, findings show that high-profitability companies are twice more likely to have high involvement cultures than low-profitability companies."
The value of trust in customer relationships became even more evident in a PwC report of 2014 titled
How financial services lost its mojo – and how to regain it.
It was based on analysis of a survey of over 2000 people across the UK and revealed a sense of apathy among customers through generally low scores on the vast majority of questions, and the combination of low trust scores and inertia. As an example, the survey noted that while only 32% of people trust their retail banks, only 11% have changed their current account provider in the last year.
"Those who don't change now, and those who don't make the right changes, risk going further down the road where the people they are trying to reach have stopped listening and will only pay attention again when something genuinely different comes along," says George Stylianides, Financial Services Risk and Regulation leader at PwC.
Long standing client relationships are integral for creation of sustainability and sustained competitive edge. Sustainable relationships based on trust and dependability has also shown that companies are able to tackle bad times while prospering in good weather.
For many global firms this has become a differentiating factor that sets them apart from the competition. The issue of trust relationships in business is best summed up in the words of Moment who says: "trust stems from keeping our word. If we say we will be there for our clients, then we should honor that commitment by being there."