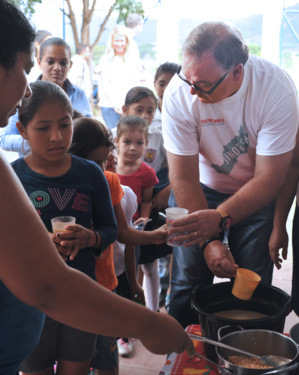 Dailycsr.com – 24 December 2015 – Yum! Brands had started its hunger relief programme called "World Hunger Relief" in the year of 2007. Since its inception, the programme strove to fight against hunger on a world wide scale, whereby Yum! Brands has made an announcement that it has raised a fund amount of "$640 million in cash and food donations" to fight for the same cause.
The World Hunger Relief initiated by Yum! Brands has become the "largest private sector hunger relief" programme in the world which covers "more than 125 countries, over 41,000 KFC, Pizza Hut and Taco Bell restaurants and 1.5 million associates". The programme encourages volunteerism, spreads awareness and collects funds for fighting hunger, whereby it has also adopted various communities like "Jinotega" and "Nicaragua" under its "Feed the World Ambassador Program".
Consequently, Yum! Brands focuses in improving infrastructure "at local schools that WFP serves". The C.E.O of the company, Greg Creed stated:
"We're a company with a Huge Heart and it's our privilege and responsibility to Feed the World by making a difference in global hunger. I'm enormously proud of the hard work and passion of our associates and franchisees around the globe who have raised $640 million in cash and food donations, providing 2.6 billion nutritious meals for women and children."
The international superstar cum the "multi-Grammy Award winner", Christina Aguilera, as an "Ambassador Against Hunger' for WFP", is voicing the concerns of Yum! Brands on behalf of the company whereby she adds:
"I am proud to lend my voice to help raise awareness for Yum! Brands World Hunger Relief effort. We have made great progress in the fight against hunger over recent years, but understand there is still more to be done. My goal with Yum! Brands World Hunger Relief is to inspire as many people as possible to donate to the cause and become part of the solution. Just $1 will provide a school meal for four children in developing countries."
While, the director of Global Private Partnerships, Jay Aldous stated:
"Yum! Brands continues to be WFP's leading private sector fundraising partner as we strive for a world with zero hunger. The impact this partnership has made over the years has helped set millions of children on the path towards reaching their full potential."
According to the statistic data, in the year of 2007, almost "1 billion people" were victims of "chronic hunger around the world"; at present the same has come down to "795 million", as per the data of the U.N. Yum!'s hunger relief initiative raises funds and directly transfer the sum to U.N's World Food Programme, in an attempt to help mostly with "school meals programs".
Moreover, BusinessWire writes:
"Yum! also addresses hunger in the U.S. through its Harvest program. Since 1992, the Company's brands have contributed more than 183 million pounds of food to over 3,000 nonprofit organizations for those at risk of hunger in the U.S. Since its launch over two decades ago, Yum! Harvest has become the largest prepared-food donation program in the world. The Company continues to expand the program globally".
References:
http://www.businesswire.com/