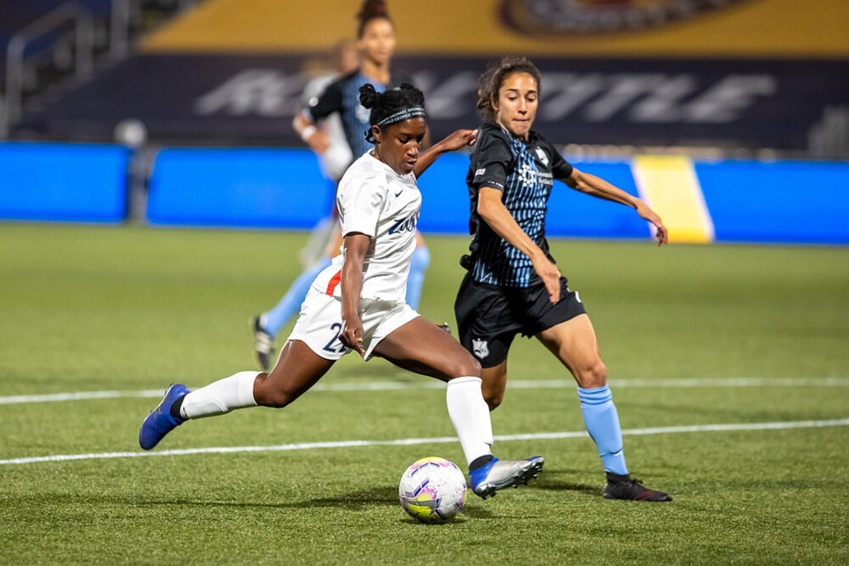 Soccer is the most popular women's sport in the world, and interest in the sport in the United States is growing. The Angel City Football Club's fervor for the sport, combined with PNC's commitment to closing the economic gender gap, played a significant role in the Greater Los Angeles market's designation as The Official Women's Business Champion.

Natalie Portman, entrepreneur Julie Uhrman, and venture capitalist Kara Nortman founded the majority-women-owned team, which is a member of the National Women's Soccer League (NWSL). Alexis Ohanian, co-founder of Reddit, is the lead investor, and more than 100 other celebrities, athletes, and tech industry leaders are founding investors. The club's business model includes a community impact initiative that identifies and implements programs to accelerate women's financial equality, as well as extra funding equal to 10% of sponsorship dollars dedicated to equity for diverse groups and education.

Angel City finished its inaugural 2022 season on the heels of the USWNT's pay equity victory - a movement that Uhrman, the team's co-founder and president, credits with inspiring the formation of the Angel City team.

"We had this idea that we could build a business, a culture and a community reflective of our values, reflective of our city and reflective of what we ultimately wanted – equity," said Uhrman.

PNC's status as The Official Women's Business Champion for the team aligns with PNC's decades-long contributions to advocating for the success of women who are financial decision-makers, as well as its more recent Project 257®:Accelerating Women's Financial Equality initiative.

PNC launched Project 257 after the World Economic Forum's 2020 Global Gender Gap Report revealed that women would need 257 years to catch up to men economically if progress continued at its current rate.

"There is a broad spectrum of opportunities to close the economic gender gap, and Angel City's business model is an example of how women are reimagining paths toward financial equality," said Beth Marcello, director of women's business development at PNC.

"When these kinds of innovative moves are developed across a greater number of industries, together we should be able to close the gap before two more centuries pass."

PNC's Organizational Financial Wellness Program conducts financial education workshops with the team's front-office staff and players as part of its partnership with Angel City, while also providing other resources to help the organization and its members thrive.

Members have access to dozens of PNC-Certified Women's Business Advocates (WBAs) throughout the Greater Los Angeles market. The WBAs in Los Angeles are part of a coast-to-coast network of more than 4,700 colleagues committed to assisting women's financial success, including those who own or lead businesses.

Impact
Following the 2021 acquisition of BBVA USA, PNC entered the Greater Los Angeles market and began doing business there using its national main street banking approach.

"Being new to this market, we want to make sure we are involved in the Greater LA community in impactful ways, and the sponsorship with Angel City aligns with so many of PNC's commitments that it was just a perfect fit," said Todd Wilson, PNC regional president for Greater Los Angeles.

LA is ranked first among U.S. cities for soccer fans, and Wilson believes the sponsorship will allow PNC to capitalize on the city's strong interest in the sport to raise awareness about the importance of gender financial equity.

PNC also assisted Angel City in the launch of its Player 22 Future Program, which prepares players for life after football. Retired athletes can apply for grants to help them continue their careers in sports as a commentator, analyst, coach, general manager, or team president.

"We've experienced the benefit of having former U.S. and international team players as owners of Angel City," said Uhrman while adding "and we want to make sure we can get more former players back into the sport that they helped to build."

To launch the Player 22 program, the club required $100,000. They were almost at the goal by midyear in 2022, only a few months into fundraising, and that's when PNC stepped in to close the gap.

"That wasn't even part of our sponsorship agreement, but Lou Cestello, head of regional markets at PNC, looked at me and reiterated that this is a partnership, and what is important to Angel City is important to PNC," said Uhrman.

"I think that is such an unbelievable example of how PNC goes the extra mile."

PNC and Angel City are now broadening the concept of the Player 22 program. Ten percent of the bank's Angel City sponsorship will be reallocated to a new grant program for retirees who want to start or expand their own social enterprises and businesses. Jasmyne Spencer of Angel City is one of the players who could benefit from the programme. Spencer has already begun to plan for life after soccer by launching her sustainable lifestyle brand, Jas It Up.

"I think this is the first time you can see a team use their platform to its full potential to push toward financial equality and future stability for its athletes," said Spencer.

"It is really gratifying to know that you represent something bigger than the sport by being a part of this team." said Spencer.