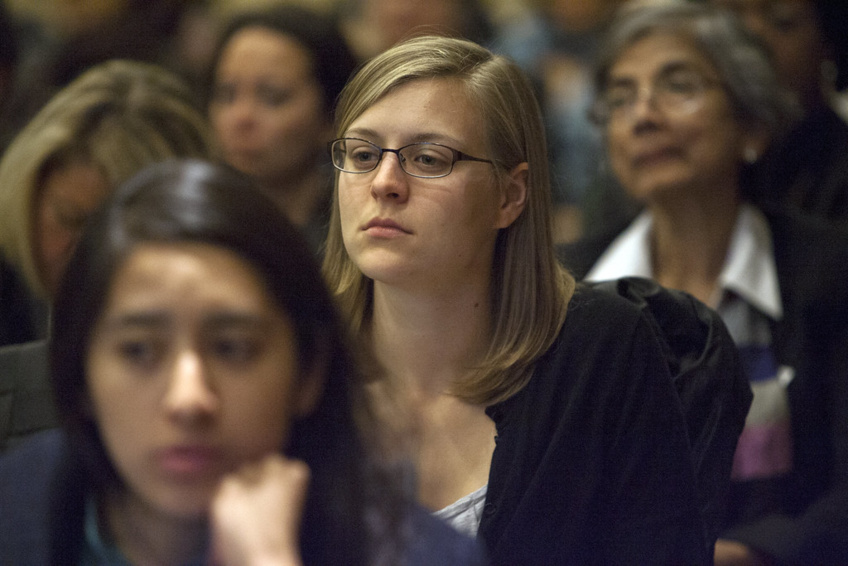 Still much to be done for women, even in high-ranking positions
French women still have a long road to go until equality is achieved. If domestic inequality was not enough, women have additional injustice to confront, when on the workplace. The Local reports the recent national survey
which
"
highlights the kind of discrimination women go through on a daily basis, revealing that 1.2 million women experiencing sexist insults in 2017. The first investigation into sexism in France was carried out by the High Council for Equality between Women and Men (HCE) and the results were made public on Thursday.
" Frenchwoman Christine Lagarde, as a former lawyer, minister and IMF director, has now moved on to head the European Central Bank - but has had to claw her way up, and still faces headwinds today in her new position. Bloomberg Yuko Takeo
writes
: "
Hostility and discrimination await women daring to encroach upon the male-dominated world of economics and central banking, according to papers presented at a European Central Bank conference on Monday. The research shows that the much-celebrated rise of Christine Lagarde -- a lawyer and politician, not an economist or central banker -- to become the ECB's firstever female president is atypical for her gender
." Since her arrival, Mrs Lagarde has raised hopes that women get better treatment and access to top management positions.
An armored glass ceiling
In 2018, French energy firm Engie was working on whether to maintain dual leadership, with a chairman (at the time, Gérard Mestrallet) and managing director (then and now, Isabelle Kocher). Isabelle Kocher, with an impeccable industrial track record, already had something to show for her revolutionary strategy, which cleaned the dust off one of France's oldest and most prestigious companies. During her management term, Engie
moved away from coal
and heavily invested in clean energy, while digitizing its entire structure. However, Isabelle Kocher being one of the very few women managing French top companies, she was denied the title of CEO, and maintained under the rule of a male chairman. The presidency of Engie is now headed by another man - Jean-Pierre Clamadieu - and she has been treated even worse since the new term, namely with attacks on her personal life and slandering campaigns. To make the injustice even worse, her results have since improved: after years of economic slump, Engie is now perfectly positioned to address the complex future of the energy market. As
reported
by Financial Times David Keohane, "
Isabelle Kocher, chief executive of Engie, says a "fundamental repositioning" is complete at the start of a critical year for the French energy company. "It's [now] more about the pace of growth," said Ms Kocher, who took over the group in 2016. "Fundamentally we have done the most important part in terms of repositioning. And we have been extremely clear on the businesses we intend to make a difference on." Engie has gone through significant changes since Ms Kocher took charge, becoming as she did the first French female chief executive in Paris's CAC 40 stock market index.
" Her professional results, however, have made her a threat in the all-male world in which she operates, and there is ongoing talk about her being pushed
out the door
in 2020. Engie's staff overwhelmingly supports her, and analysts unanimously recognize the quality of her bold management, but her fate will be decided at the higher levels - and she will have no say in it.
French government finally tackling the matter.
It took social movements and actual crimes to jolt the State into action, eventually. Since 2018, feminist movements have been
pressuring
the government to act and keeping a loud tally of every female homicide victims since the beginning of the year, as a way to highlight the State's lack of response and women's general defenselessness in the face of violence. Care International
reports
: "
By announcing his intention to "make women's rights a great global cause", Emmanuel Macron placed France as a leader on this issue and, therefore, has a historic responsibility: Biarritz must not be a new missed opportunity, but a moment of strong feminist mobilisation for the G7 countries
." Violence against women includes access denial to basic health services, denial of reproductive rights, professional inequality, domestic violence and lack of social recognition. With the help of the first lady, Emmanuel Macron has helped raise awareness in French society towards the need for better protection of women. Despite shows of good faith, however, feminist associations are still waiting for actual tokens of the policy's effectiveness.
The image of France as the country of romance and chivalry shouldn't fool whoever wonders what the fate of women actually is, in the country. There too, women must fight for recognition, rely mainly on themselves for their safety and well-being, and work harder than their male counterparts for equal pay. So far, successive governments have failed to curb the tendency. Will Emmanuel Macron be the knight in shining armor?