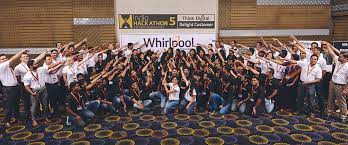 With the help of long-time collaborator Teach For America, the Care Counts laundry program works with participating schools to find ways to ensure children have access to clean clothes throughout the school year. The program has helped to reduce chronic absenteeism while also increasing attendance rates, grades, and engagement levels among at-risk students who participate over the years. After analyzing the most recent data from the 2021-2022 school year, Whirlpool discovered the following:
Nearly 70% of participating high-risk elementary school students increased their attendance (3).

High-risk elementary school students(4) who participated increased their attendance by an average of 12 days over the previous academic year.

By the end of the 2021-2022 academic year, nearly 60% of participating high-risk elementary school students(5) had reduced their chronic absenteeism level, and 30% of participating high-risk students(6) were no longer at risk.



"We're proud to continue growing the Care Counts™ laundry program, particularly at a time when we're seeing the detrimental impact the pandemic continues to have on the ability of our young students to attend school," said Nelly Martinez, senior brand manager for Whirlpool brand.
"We're incredibly thankful for the school leaders and volunteers across the nation who are integral in keeping this program running, staying connected with students and their families, and providing more vulnerable people with access to clean clothes."
In the 2022-2023 school year, the Whirlpool brand's Care Counts laundry program has expanded to five new states: Wisconsin, Rhode Island, Virginia, Delaware, and Hawaii. It will continue to work with schools in five regions, including Idaho, New Jersey, New Mexico, Oklahoma, and South Carolina, which are participating in the program's second year.
"The impact of the washer and dryer is truly incredible," said Krishna Barroso, principal at AVON Avenue School in Newark, NJ. "These two simple machines that most people take for granted provide essential access to clean clothes, which builds pride, confidence, and improves attendance for our students."
The Whirlpool brand's Care Counts laundry program aims to eliminate one small but significant barrier to attendance - access to clean clothes - by installing washers and dryers in select schools across the country. To learn more about Whirlpool's Care CountsTM Laundry Program, click
here
.