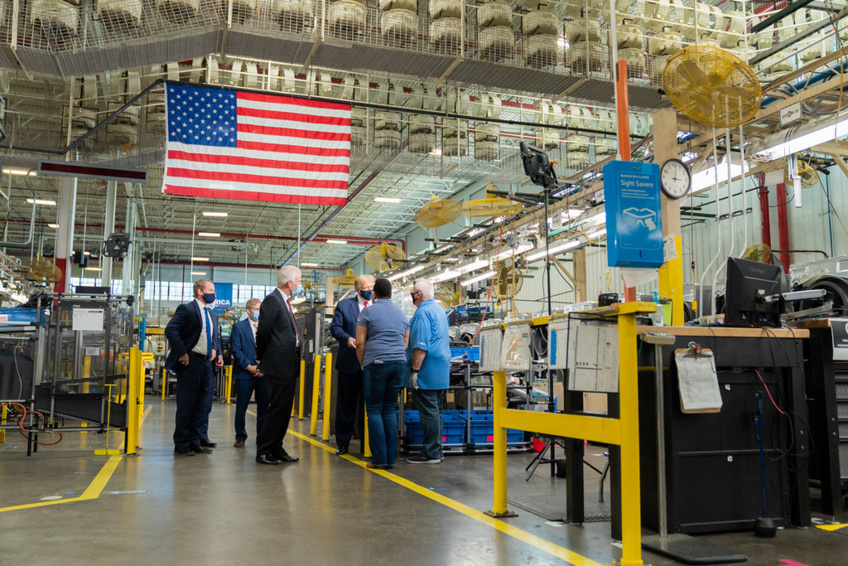 Whirlpool Corporation today announced that its large manufacturing sites worldwide have achieved Zero Waste to Landfill (ZWtL) Gold or Platinum status (self-certification), as part of the company's ambitious and long-standing commitment to sustainable operations.

Whirlpool Corporation established its Zero Waste to Landfill goal in 2012 and has since continued to invest in plant efficiency and waste reduction, collaborating with recyclers and sustainability vendors to find new, innovative ways to eliminate waste and contribute to the circular economy. This target is consistent with the UL ECVP 2799 Zero Waste to Landfill standard, which calls for at least 95% diversion from landfills.

"Sustainability is central to Whirlpool Corporation's culture. We are relentless in our efforts to improve the way we produce and manufacture our products to deliver on our social and environmental sustainability goals while not compromising product performance," said Marc Bitzer, CEO and chairman, Whirlpool Corporation.

"Our Zero Waste to Landfill achievement is a significant milestone that underscores the commendable dedication and collective commitment from our team to drive meaningful change. We will continue to unite our sustainable practices with our corporate purpose to support our communities and grow our business."

Whirlpool Corporation's ongoing commitment to World Class Manufacturing (WCM), which sets the highest standards for manufacturing excellence and serves as the foundation for the company's sustainable manufacturing journey, includes Zero Waste to Landfill. Apart from ZWtL, the company continues to score higher on the WCM Environmental criteria and has led several key initiatives in biodiversity, green buildings, renewable energy, and energy retrofits.

Whirlpool Corporation has maintained an unwavering commitment to doing the right thing for consumers and the planet while not compromising product performance in order to achieve the Zero Waste to Landfill goal. Recognizing its environmental impact, the company announced in 2021 a commitment to achieve net zero emissions (scope 1 and 2) in its global plants and operations by 2030, encompassing all direct (Scope 1) and power-related (Scope 2) emissions.

The company has reduced its carbon footprint by accelerating energy-saving plant retrofits and signing two wind Virtual Power Purchase Agreements (VPPAs) that will generate wind energy equivalent to 100% of Whirlpool Corp.'s U.S. manufacturing plant energy consumption.

In April 2021, the company also issued its first $300 million sustainability bond to fund social and environmental projects across the organization.

In February 2022, Whirlpool Corporation joined the U.S. Department of Energy's (DOE) Better Climate Challenge, which aims to reduce greenhouse gas emissions by half within ten years by collaborating with the DOE and other organizations.

"For more than 50 years, Whirlpool Corporation has prioritized social and environmental sustainability to support its people, the communities where we live and operate, and the planet," said Sr. VP of Community Relations and Sustainability Pam Klyn.

"This accomplishment is a testament to the meaningful work of our employees around the globe and we look forward to building on this momentum through our sustainability efforts in 2023 and beyond."

With the exception of a new manufacturing facility in Argentina that opened on October 28, 2022 and the InSinkErator business that was acquired on October 31, 2022, Whirlpool's Zero Waste to Landfill goal was met by December 31, 2022 for all large global manufacturing facilities owned by Whirlpool.