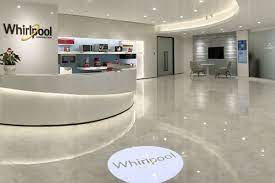 Whirlpool Corporation announced two partnerships to help students at Florida A&M University further their education. The company announced a collaboration with Florida A&M University / Florida State University's Educating Engineering Students Innovatively (EESI, pronounced "Easy") program, through which students will be supported through scholarships and mentorship.

Whirlpool Corporation has also partnered with the Southern Scholarship Foundation to sponsor the housing of 51 Florida A&M University students from a variety of majors across three houses on campus. The Southern Scholarship Foundation provides students with rent-free housing and cooperative living opportunities to help them attend their dream university, and Whirlpool Corp. is proud to be a part of this program to help these students achieve their goals.

"We couldn't be more excited to officially establish this relationship," said Doug Haaland, vice president of global talent management at Whirlpool Corp.

"The future of innovation lives in places like the classrooms at Florida A&M University, and we are excited to play a role in the education for these aspiring students."

Dr. Charmane Caldwell's EESI program is designed to inspire and motivate undergraduate engineering students by giving them the opportunity to practice engineering while exploring one of four different tracks: industry, entrepreneurship and innovation, community engagement, and research.

Whirlpool Corp.'s collaboration with the Southern Scholarship Foundation will help students from a variety of backgrounds and academic disciplines offset some of the annual cost of higher education.

Both partnerships are in line with Whirlpool Corp.'s multi-year racial equality and fairness pledge, which was announced in 2020, and will provide opportunities for interns and graduates from diverse backgrounds.

Whirlpool Corporation was recently named to Fortune's list of the World's Most Admired Companies, CNBC's list of America's Most JUST Companies, and the Dow Jones Sustainability World Index. The company is also regularly recognized for its strong culture of volunteerism and corporate social responsibility, having received awards such as Newsweek's America's Most Responsible Companies, and for its commitment to House+Home with multiple charitable organisations, including the Boys & Girls Clubs of America, United Way, and a 23-year relationship with Habitat for Humanity International.