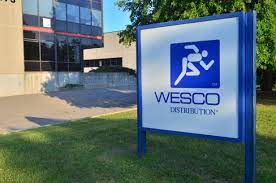 Wesco International's (NYSE:WCC) Pittsburgh headquarters is pleased to announce that its Quality Management System has been successfully registered to ISO 9001:2015. Wesco provides supply chain services, technical services, and products for structured cabling systems, electrical/electronic wire and cable, utilities, data, voice, video, telecommunications, networks, energy, multimedia, maintenance/repair, safety and security applications, and fastener distribution.

To achieve our vision of being "the best tech-enabled supply chain solutions provider in the world," Wesco began with an assessment of legacy quality management systems and future needs. As a result, we now have a Lean Quality Management System that reinforces our commitment to continuous improvement across our customer-focused sales processes, digital solutions, and supply chain operations. Wesco was certified by our external registrar for independent validation to the ISO9001:2015 standard after the training and deployment of the new system was completed.

"Achieving this certification gives us a strategic advantage and opens up opportunities to distinguish ourselves among our competitors in the marketplace. For 100 years, Wesco has upheld high standards of operations and this certification acknowledges this," said Hemant Porwal, executive vice president, Supply Chain and Operations.

"Wesco is dedicated to serving our customers with the highest level of standards of quality and consistency," said Jeff Wood, senior vice president, Operations. "We are focused on building customer confidence by becoming their trusted partner and making Wesco easiest to do business with."

ISO9001 is a set of international quality management and assurance standards and guidance documents. The standard represents an international consensus on management best practices, with the goal of ensuring that the organization can consistently deliver products or services that meet or exceed the quality requirements of the customer.

International Standards are strategic tools and guidelines that assist businesses in addressing some of the most difficult challenges in modern business. They ensure that business operations are as efficient as possible, increasing productivity, assisting companies in entering new markets, improving quality, increasing customer satisfaction, and increasing sales.