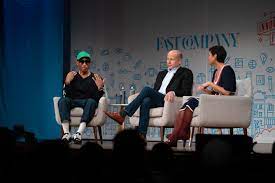 In a podcast, Talib Visram from Fast Company's World Changing Ideas, said, washing clothes in cold water could reduce nearly 50% of greenhouse gases from the life of a garment.
Such a small step could makes a huge difference.
This however raises the question whether cold water will kill bacteria, save money or remove stains like hot water does.
HanesBrands'
Chief Sustainability Officer,
Chris Fox
, sat down with Visram to answer these questions in the
podcast
. .
About HanesBrands
HanesBrands
is
a vertically integrated company in the apparel industry. A pretty rare combination since there are very few companies in this industry which make their own products.
HanesBrands makes nearly 70% of its clothing in facilities that it either owns or runs giving it a huge advantage in improving its sustainability profile.
The company manages its environmental and social practices not only within its brands portfolio but also across much of its supply chain. This keeps us closely connected to the communities that are part of our global business.
Being in control of much of its production processes has enabled it to implement the most forward-looking sustainability policies and systems to drive the most positive impact from them. Our unique model provides a framework for local action and innovation at our locations across the world. It's also helping us build a culture of empowerment and continued learning and improvement throughout the company.