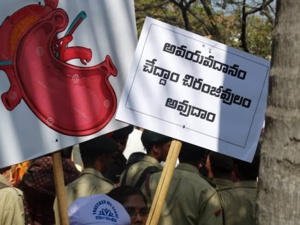 Dailycsr.com – 23 July 2015 – The city of Bengaluru, India, got a reason for celebration, unlike any other such events aimed at simple enjoyment, the said programme stemmed from a green cause. The state of Karnataka, India, has "witnessed" an increasing awareness in its citizen whereby within "last five months" there were "38 organ donations", informs the chairperson of "Zonal Coordination Committee of Karnataka for Organ Transplantation (ZCCK)", Dr. P Satish Chandra.

Dr. P Satish Chandra inaugurated an "awareness rally" in the form of a walkathon. The event was organised by the "Naunce Transcription Services India" in collaboration with "Gift Your Organ Foundation". The programme was held at Cubbon Park on 18th July 2015. There were hundreds of participants which included the volunteers and the employees of the "Gift Your Organ Foundation". The walkathon event went under the banner of "Proud-to-Pledge". After the inauguration ceremony, Dr. Chandra graced the event by delivering a speech, wherein he mentioned that:
"Many people are coming forward and donating their organs. We are happy to see Nuance take up organ donation as a part of their CSR activity. It is only in the event of brain death that organs can be donated and each donor can save the lives of eight people by way of solid organ donation like heart, liver, lungs, kidneys, pancreas and small intestine. More than 15 lives can be impacted by way of tissue donation such as eyes, skin, heart valve and bones".

The event also saw the presence of the additional police commissioner (traffic), M A Saleem, who expressed his delight in his speech on the behalf of the entire police force of the city, whereby he added:
"We, at the police department, are happy to support the cause of organ donation. Recently, we provided a green channel for a transport of organ from Mysuru to Bengaluru."

While the city of Bengaluru, was in the midst of celebrating the "Medical Transcription Week", the company of Nuance sought the right opportune moment to launch the "organ donation programme". The programme is open to all its employees working "across all the nine offices". The DHNS reports that the employees of Nuances
"...will be pledging their organs, in association with Gift Your Organ Foundation.
The donation programme began on the 14
th
of July 2015. It is an eighty day schedule, which is to last till the 6
th
of August 2015, which is nationally known as the "
Organ Donation Day
", whereby marking a significant and meaningful end. Furthermore, the report of DHNS, enlisted the honourable guest present at the ceremony, which include:
Shailendra Sharma, Vice President,
"NTS Operations, Nuance INC, Dr Satish Madakala, Secretary, ZCCK and Soumitra Das, Head of Human Resources, Naunce Transcription Services India".