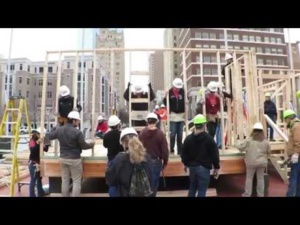 Dailycsr.com – 27 August 2015 – The local mortgage industry of Pleasanton, California, enjoys the services of
Ellie Mae®
which is specialist in providing customised and innovative software solutions. The company has now come forward to help the East Bay and its partner Habitat for Humanity whereby "sponsoring" for building a playhouse through the company's volunteer programme called "EllieCares".
The Playhouse building event will welcome over a hundred fifty volunteer who will participate in this venture to give a helping a hand to Hibitat for Humanity. The programme is scheduled to take place on Friday, the 28
th
August 2015. It is going to be an "unique" endeavour which will create a place for the community children to treat like their own. The event aims at constructing "usable and durable" playhouses for the children through a collaborated effort from the volunteers. Once completed, the playhouses will be "donated" to the local community charities and the families residing in that area.
The distribution of playhouses will be carried out by the The Blue Star Mothers of America, Inc. while the EllieCares volunteer-program's head, Jonas Moe remarks:
"We're honored to partner with Habitat for Humanity for another successful Ellie Mae volunteer event. By donating even a few hours of time, we can make a huge impact on our local community. Our EllieCares program gives employees a variety of ways to give back through monthly events and flexible time and we're proud to see so many teammates involved."
In fact, sometimes earlier in the year, the volunteer team of Ellie Mea, came together to assist the organisation of "Alameda County Food Bank". Collectively, the entire group sorted and distributed "more than 45,000 pounds" of produce bags. The said amount distributed would equate to providing "more than 35,000 meals" to the residing community. Moreover, soon before the end of this year, the employees of Ellie Mae are planning to begin the "EllieCares Community Fundraiser" which is usually conducted on an annual basis.
As per the practices, the employees from all over the country "raise money for their nominated charities". Likewise, the volunteers raised a sum of "$20,000" last year through a lottery draw and "silent auction". The amount of then offered to the Alzheimer's Association and the American Cancer Society. Ellie Mae's president cum C.E.O, Jonathan Corr informs:
"We have a long history of helping people achieve their American dream of homeownership and of being a part of a community. As a growing company firmly rooted in the East Bay, and with offices across the country, we're thrilled to give back to the communities where we live and work through volunteerism and philanthropy."
Source(s):
http://www.businesswire.com/news/home/20150824005127/en#.Vd2rqiWqqko