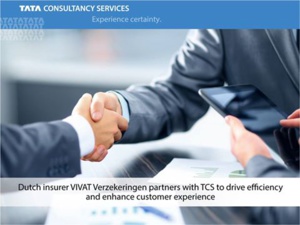 Dailycsr.com – 21 October 2015 – The leading IT service of the world, Tata Consultancy Services that provides business solutions and consultancy to various organisations across the world, made an announcement that "VIVAT Verzekeringen", a Dutch insurance firm, has selected TCS for helping the "company deliver greater operational efficiency and enhance customer experience".
The life insurance operations conducted by VIVAT Verzekeringen will be supported by TCS so as to leverage the "extensive domain experience" of the customers that avail the services of the "insurance companies across Europe", besides their "investments in technology tools", and services regarding business process. Likewise, VIVAT will improve on its "service quality" whereby ensuring timely and "quicker" turnaround periods so as to be better equipped in order to "manage seasonal volume shifts".
The director of "Life Business, Reaal", Wendy de Ruiter-Lorx stated:
"At Reaal, one of the brands of VIVAT Verzekeringen, we understand that each customer is different; with unique requirements and expectations. We are dedicated to putting our customers at the centre of our business for which we need to be both flexible and robust. We are confident that our partnership with TCS will deliver the business agility and operational efficiency we need to deliver a great experience to all of our customers."
While TCS Benelux's regional head and director, Amit Kapur said:
"Across the insurance sector, digital technologies such as mobile, social, cloud and big data are driving major changes in how customers engage with providers. There is a growing need for organisations to transform their business processes in order to deliver an enhanced customer experience and stay competitive in this new environment. We are pleased to be able to build on our partnership with VIVAT, by leveraging both TCS' IT as well as business process services. This is a significant milestone for TCS in the Dutch life insurance market and we are delighted to be part of this journey."
Since the year of 1992, TCS has been serving in the region of Benelux and Netherlands, whereby it has been investing continuously in the local market in order to be consistent in delivering to its clients. In a survey on the performance of service provider sectors that was carried out through Europe TCS emerged as the number one company for its "customer satisfaction" performance.
The said survey was conducted by "Whitelane Research". Moreover, TCS was also at the top of the list among the employers category in Netherland for the year of 2014. The said recognition was given by the CRF Institute. In fact, TCS has also been recognised by the "Everest Group" as a "'Leader' in the insurance BPO market".
References:
www.europe.tata.com