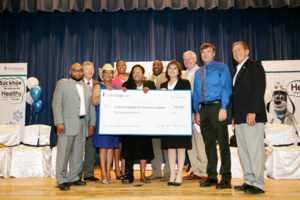 Dailycsr.com – 10 September 2015 – The UnitedHealthcare in order to lend a helping hand to "teen parents" in an attempt to bring improvement in the "pregnancy outcomes" has awarded a community grant of "$50,000" to the "Children's Coalition for Northeast Louisiana". The grant will enable to create "a safe and supportive space" for the teen parents of Louisiana, through "the school site Jus4Me". The site issues various programmes like "Nurturing Skills for Teen Parents" which provides resources "for pregnant teens and teen parents", on a weekly basis.

The grant was present to the Children Coalition by the chief-medical officer of "UnitedHealthcare Community Plan", Dr. Ann Kay Logarbo in a check presentation ceremony that was held at the Carroll High School. The programme will reach out to various locations, through "high schools" of "Ouachita, Union and Madison Parishes". Many guests and community leaders were present at the occasion to witness the impact of facility tour and various presentations on the community, which included:
"State Rep. Katrina Jackson, State Sen. Mike Walsworth, State Rep. Frank Hoffman, State Sen. Francis Thompson, Monroe City Schools Board member Brenda Shelling, Wossman High School Principal Sam Moore, Carroll High School Principal Patrick Taylor and Monroe City Schools Superintendent Brent Vidrine".

The initiative of Jus4Me combines "various initiatives and resources" to support the teen parents and pregnant teens, whereby they issue:
weekly 50-minute evidence-based parenting sessions at school sites for pregnant teens and teen parents during the school year;
social norming campaigns within the school and community to increase understanding and decrease stigmatization of teen pregnancy; and
working with School-Based Health Centers and school staff to develop policies and enhance access to health and educational services for pregnant teens and teen parents.
While northeast Louisiana's executive director, Lynn Clark expresses their gratitude:
"We thank UnitedHealthcare for supporting the important work that Children's Coalition for Northeast Louisiana is doing to help teen parents and address pre-term births in the state. Because of UnitedHealthcare's generosity, we can continue making significant contributions to improve pregnancy health among local teens."
The statistics given by the National Center for Health show that almost fifteen percent of the time babies are born before term in Luoisiana; the said percentage accounts for the "second-highest rate in the nation". Moreover, the premature babies are exposed to "a higher risk of developing health complications" whereby affecting their breathing function, heart rate, hearing, immune system and vision. In Dr. Logarbo's words:
"This Community Grant enables the Children's Coalition for Northeast Louisiana to provide local teens with evidence-based programming that improves pregnancy outcomes and the system that supports them. Organizations like the Children's Coalition for Northeast Louisiana are addressing this issue in order to improve the health of young women and their babies, particularly in Northeast Louisiana where preterm births are highest. UnitedHealthcare is grateful for the opportunity to support the Jus4Me program to provide local teens with a supportive space that will improve pregnancy outcomes."
While Rep. Jackson remarked:
"UnitedHealthcare Community Plan's contribution will make a positive impact on teens throughout northeast Louisiana. This donation highlights their continued commitment to our community and our children."
References:
http://www.businesswire.com