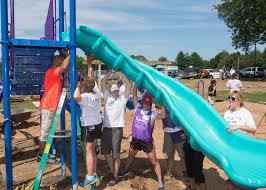 Dailycsr.com – 24 August 2015 – Local residents of Milford in collaboration with the UnitedHealthcare's local employees created Woodruff Family YMCA's new playground. Woodruff Family is a branch of YMCA "Central Connecticut Coast". During a "design day" event that took place in the month of July, the children of Woodruff Family YMCA participated in it created the design of the playground.
However, in order to give a finish touch to the "3,000-square-foot" playground the premise still requires rocky-ridge climbers, cozy cocoons and play-dozers. Once completed, the playground will provide a safe and appropriate niche for carrying on the playful activities to "more than 17,000 kids" who live in Milford.
A national non-profit organization named KaBOOM gave a dedicated helping hands who aim to provide a childhood filled with fun, play and games to all the kids across the nation. The said organization has been active in this field since the year of 1996 and the playground at Milford was their "2,649
th
" one, although the partnership of Unihealthcare and KaBOOM has successfully created eighteen such playgrounds together. Moreover, the executive director of Woodruff Family said:
"The Woodruff Family Y is excited to be part of such an amazing team. The Y, United Healthcare, KaBOOM! and the City of Milford – all striving to keep our youth healthy and active – that's Community!"
While, the C.E.O of UnitedHealthcare, Stephen Farrell stated:
"UnitedHealthcare is grateful for the opportunity to help build a playground at the Woodruff Family YMCA. We believe the new playground will help inspire children to participate in healthy activities by playing and exercising outdoors."
The task of building the playground at Milford was executed under a plan launched by the UnitedHealthcare's team named "Do Good. Live Well" wherein volunteers and employees venture out together to help the society fight obesity in any way possible. Detailed information about this initiative can be obtained from
DoGoodLiveWell.org
which talks about the "benefits of volunteering".
Furthermore, the BusinessWire informs that:
"UnitedHealthcare serves more than 470,000 million people in Connecticut through its commercial, Medicare and TRICARE businesses, with a network of 50 hospitals and other health facilities and more than 14,000 physicians and other care providers statewide".
The Woodruff Family YMCA is a non-profit making charitable organization dedicated to serve the community by introducing programmes based on "Judeo-Christian principles" whereby establishing the environment for a "healthy spirit, mind and body for all". On the other hand, the organization of KaBOOM, as mentioned earlier has been shouldering the responsibility of providing the much needed childhood all the kids, especially the once growing in the shadows of African poverty.
Source(s):
http://www.businesswire.com/news/home/20150822005005/en#.VdmHxSWqqko