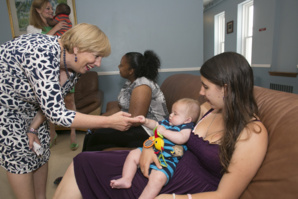 UnitedhealthCare has provided $20,000 grant to the Rhode Island Family Shelter which will focus on providing, education, resources and as its name suggests – shelter children and underprivileged families in the community; this will help expand much needed support shelter programs for local residents and avoid instances of homelessness.
"Rhode Island Family Shelter plays a critical role in providing temporary shelter and supportive and affordable housing for the underserved and most vulnerable in our community. We are grateful for the opportunity to support Rhode Island Family Shelter's efforts to ensure people have access to housing as well as education and counselling programs," said Patrice Cooper, CEO, UnitedHealthcare Community Plan of Rhode Island.
As per available records in the Rhode Island Coalition for the Homeless, there were 4,447 homeless people in 2013 in the Rhode Island. This included 631 families, 264 veterans and 1,117 children. The shelter houses around 300 people per year of which more than half are children.
"We appreciate this donation from UnitedHealthcare that will help support housing and shelter services for local residents throughout Rhode Island, ensuring high-quality services. Additionally, this grant will enable us to continue to expand and support educational services and programs needed for less fortunate families to get back on their feet in the community," said Patti Macreading, executive director of the Rhode Island Family Shelter.
With a network comprising of 17 hospitals, 4,500 physicians and other care providers statewide, UnitedHealthCare serves more than 300,000 people in the Rhode Islands.
About UnitedHealthcare
UnitedHealthCare
is a diversified Fortune 50 health and well-being company dedicated to helping people nationwide to live healthier lives. This is done by simplifying the health care experience, sustaining trusted relationships with care takers, and meeting consumer health and wellness requirements.
UnitedHealthCare
offers a full spectrum of health benefit program designed to meet the requirements of military service members, employers, individuals, retirees, Medicaid and Medicare beneficiaries. UnitedHealthCare contracts directly with around 850,000 healthcare professionals and doctors, 6000 hospitals and other care facilities nationwide.
References:
http://www.businesswire.com/news/home/20150611006126/en#.VXvYfPmqqko