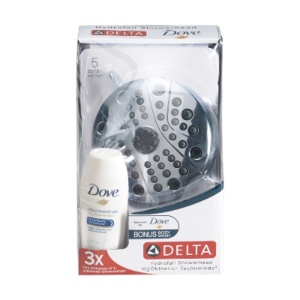 Dailycsr.com – 30 December 2015 – Unilever U.S. along with "Delta Faucet Company" entered in to a partnership in an attempt to "reduce water usage without compromising the shower experience". Both the companies have launched a "co-packaged offering" that combines "Delta® Hydrafall™ showerhead with H2Okinetic® Technology" topped by "Dove® Deep Moisture Body Wash".
The H2Okinetic technology of Delta turns water into sculptures, whereby weaving pattern in favour of creating "larger water droplets for a warmer shower". The discharge rate is measured at "2.0 gallons of water per minute" but the clever technology makes it "feel like 2.5 gallons".
Efficient showerheads can save "up to 2,900 gallons" of water annually, informs the "United States Environmental Protection Agency". Moreover, the inclusion of "Dove Deep Moisture Body Wash" taking deep care of your skin enables the customers to arrive at a single solution for facing the "climate change and water scarcity". The president at Delta Faucet Company, Jai Shah stated:
"Water is debatably the world's most valuable natural resource. Our partnership with Unilever is grounded in serving consumer desires while addressing increased national water supply challenges. We are committed to providing water efficiency and are continuously working to innovate shower technologies to help conserve water without sacrificing consumer experience."
In a clinical test that was conducted by Unilever, the combination of "Dove Deep Moisture Body Wash" and "Delta H2Okinetic Technology" is capable of providing "more nourishing skin experience than a standard showerhead". In the words of the Unilever, North America's President, Kees Kruythoff:
"A challenge that we continunially face in helping consumers live sustainably is how to impact their daily habits when it comes to the water usage associated with our products. We have learned that to create change we need to offer simple, practical solutions. Our partnership with Delta Faucet Company allows us to do that in a way that not only conserves water, but also doesn't require a trade off in the quality of their shower experience."
It is an attempt to cater to consumer's with an enhanced shower experience, whereby helping speeded "consumer adoption of water-efficient showerheads". Subsequent to the said adaptation, this pattern will turn into a normal market trend and bring down the shower impact on the environment.
Furthermore, Sustainablebrands reports:
"On any given day, two billion people use Unilever products globally to look good, feel good, and get more out of life. The Unilever Sustainable Living Plan, introduced in 2010, is the company's blueprint for achieving its vision of doubling the size of the business, while reducing environmental footprint and increasing positive social impact".
References:
http://www.sustainablebrands.com/