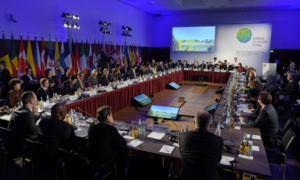 The most devastating impacts of the effects of climate Change, be it floods, rising sea levels, droughts, heavy monsoon, and cyclones/hurricanes will be borne and felt by the poorest nations. They will bear the brunt of global warming and climate change.
So as to mitigate these threats which threaten to destroy and ravage habitats and crops along with innumerable human lives, the United Nations has targeted 100 billion dollars per year upto 2020, for the Green Climate Fund (GCF). The GCF is aimed at supporting weaker nations, so as to enable them to be more resilient and help them adapt to meeting these life threatening challenges.
"The challenge is: how do we make sure that the world spends the money earmarked to avoid serious climate change efficiently and effectively?" said Lisa Elges, from Transparency International.
On his part, UN's secretary General, Ban Ki-moon said last week, "I will pro-actively engage with leaders from both the global north and south to make sure this goal is met and is considered credible by all."
Headquartered in South Korea, the Green Fund, must be "up and running", with funds that can be disbursed to needy nations, before the the Climate Change conference Scheduled to be held in Paris later this year.
When asked whether the funding target of 100 billion are at a realistic level, Lisa Elges, who heads the Climate Policy at Transparency International, said "The more practical question is: how can he achieve the target?" One way, she said, could be cracking down on illicit funds flows. If countries were to tackle the problems of money-laundering, taxes generated out of those funds could be utilized for sustainable development as well as for our environment.
To put this in perspective, she said, 1000 billion dollars are lost annually to tax evasions, bribery, corruption, and illicit fund flows. "When the corrupt lose, the people and planet will gain," she said.
Additionally, if additional climate funding sources are identified and if public financing is scaled up, the 100 billion green climate fund target can be easily achievable, said Michael Wesphal, senior associate in the Sustainable Finance Team at World Resource Institute. Clearly, what is need is a concerted action by responsible actors so that public finance can be leveraged to private sector investments.
Last November, at a summit meeting of the G20 in Australia, U.S President, Barack Obama pledged a contribution of 3.0 billion dollars to the Green Climate Fund. Even before this announcement, the New York Times reported a similar pledge of 10 countries including France, South Korea and Germany wherein they each pledged around a billion each to the GCF. Following the US contribution, Japan also pledged 1.5 billion to the GCF.
"I strongly urge developed countries to provide a politically credible trajectory for mobilizing 100 billion dollars per year by 2020 to support developing countries in curbing emissions and strengthening their resilience," said UN Secretary General Ban to delegates last week.
He went on to add, "I welcome the recent announcement by Germany to double its climate finance support by 2020, and encourage other developed countries to follow this example."
The summit in last September in which world leaders met acted as a catalyst and provided a "much-needed momentum" to the GCF. "Public and private sector leaders pledged to mobilise over 200 billion dollars by the end of 2015 to finance low-carbon, climate-resilient growth." As per a UN Statement, 10 billion dollars were pledged to the GCF, last December during the G20 meeting in Lima, Peru.
Elges, from transparency International, provide another perspective. "The challenge is: how do we make sure that the world spends the money earmarked to avoid serious climate change efficiently and effectively? If that money goes astray, it could have disastrous consequences on the ground."
One of the challenges is eliminating the corruption in lobby groups. For example, the lobby groups which exists in the fossil fuel industries in developed countries such as the UK and US, who aim to influence long term climate policy for short term gains. For example, $550 billion are provided as subsidies to fossil fuel, originating from undue influence or from corruption.
While in developing countries one of the issues that need addressing is weak governance: although laws exists, in practice transparency and accountability are found missing.
Transparency International is working towards helping citizens scrutinize the their leaders acts and accounts.
Corruption is not limited to the third world, it is present in all countries, albeit in different forms and way. It affect every aspect our lives, including the global response of garner funds for the GCF, she said.
She went on to say, that the UN has a huge role to play in battling corruption, in improving coordinated strikes against this evil, across boards, across countries all over the world.
References:
http://www.ipsnews.net/2015/07/u-n-swears-by-hefty-100-billion-dollar-target-to-fight-climate-change/