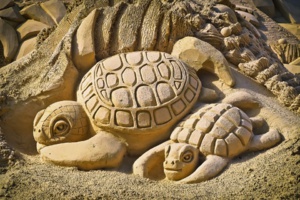 Dailycsr.com – 29 November 2016 – Celebrating the "Keep Manatee Beautiful's SandBlast 2016", a profession team of sand sculptors, known as the "Team Sandtastic" constructed an eighty ton exhibition sculpture under the title of "Wildlife & the Arts".

The above mentioned exhibition took place on Anna Maria Island's "Manatee Public Beach" which is located in the Manatee County of Florida. The SandBlast 2016 "sand sculpture competition" provided the opportunity for the amateurs to work with "local business sponsors", whereby the sculptors and business sponsors' partnership raises funds for supporting events and programmes organised by Keep Manatee Beautiful, through which KMB strives to improve the "people's quality of life in Manatee County".

Moreover, SandBlast also observes the celebration of "America Recycles Day", being the only day that is "nationally-organised", in an attempt to encourage recycling among Americans, besides also promoting the purchase of "recycled products", whereby creating a "better natural environment". The said event usually takes either on the 15th of November or in the week that leads to the 15th of November in the calendar.

The "Team Sandtastic" began their artistic endeavour "two days" prior to the even as they carved their exhibition sculpture of "Wildlife & the Arts" of eighty ton. Team Sandtastic had put on "free clinics" for the other team members and the public to visit on the 17th and the 18th of November 2016, at sunset for giving out some tips and teaching some "tricks and techniques of sand sculpting". These two days clinic culminated in the 19th of November's sculpting competition.

The sculpting competition among the amateurs began at 9:00 a.m. and lasted till one o'clock in the after, while twelve teams took part in it. The panel of judge for judging the sculptures included "Master Sculptor Mark Mason of Team Sandtastic".

The award trophies for the winners and runner-ups were crafted with hundred percent "post-consumer recycled plastic". Here is a list of the teams, as provided by Keep America Beautiful:

Elementary – Middle School Division
First Place: Team – Oasis Middle School
Sponsor – Mosaic
Sculpture Name – Pretty Wildlife
Runner-up: Team – YMCA
Sponsor – Ad-VANCE Talent Solutions
Sculpture Name – Shark Attack
High School – Adult Division
First Place: Team – Manatee School for the Arts Team 1
Sponsor – Waste Connections
Sculpture Name – Unity
Runner-up: Team – Inspiration Academy
Sponsors – Dignity Memorial
Sculpture Name – Inspiration, Dignity & Freedom
High School – Adult Division
First Place:
Team -
Bradenton Christian High School Art Dept.
Sponsor – Linger Longer
Sculpture Name – Bee With Us Forever
Runner-up:
Team –
Manatee Technical College
Sponsor – Innovate Florida
Sculpture Name – Toothless
References:
https://www.kab.org