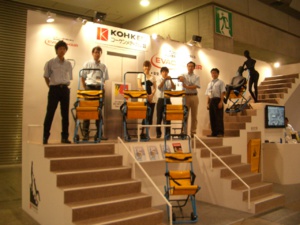 Dailycsr.com – 15 August 2015 – Evac+Chair International is the manufacturer of "emergency evacuation" chairs which has seen a "highly successful year" through various shows and events. Although based at Birmingham, the company is scheduled to attend Dubai's two days long "Hotel Show", which is going to take place from the 28
th
September to 30
th
September 2015. The said show is supposed to be the "ultimate" one which is adept at showcasing the "leading hospitality solutions" of the world. Describing the show, the Health+Safety At Work writes:
"The show covers eight halls, and attracts a trade audience of 17,700 hotel and hospitality professionals from 98 countries, held in the famous World Trade Centre."
In the month of March 2015, the Health & Safety event was held "at the NEC" wherein the Evac+Chair bagged awards for its performance of "Most Interactive Stand". Moreover, in another event conducted in Sydney, Australia in recognition of "Safety in Action", the company was awarded the title of "best new exhibitor stand". Likewise, the crowd present at these occasions cheered in support.
When it comes to helping differently abled people, especially in an emergency scenario, wherein they have to be evacuating down the stairs to safety, the evacuation chairs designed by Evac+Chair for such purposes have proven to be the world leading ones". In case of earthquakes or fires, due to the non-functionality of lifts in multi-storey buildings, people with mobility impair are always at the risk of getting trapped. However, these difficult situations can easily be tackled with the help of Evac+Chair which presents "an easy, light weight solution". Consequently, the company has been responsible for saving many lives in emergency evacuation situations.
STR Global reports that the city of Dubai houses "over 570 hotels" altogether providing "137,193 rooms" which is a befitting number for "one of the world's leading tourist destinations". In fact, this year, as per the latest report of STR Global, hundred twenty five more hotels are "expected" to be inaugurated which will be holding a number of "27,775 rooms". Consequently, many more skyscrapers and high rise hotels will be to ensure a full proof safety system which will be help the guests out a safe destination in case of any emergency situation. Evac+Chair is set with the task to impress the crowd at the Hotel Show. Talking about the expected show of Evac+Chair, Mark Roberts the marketing and sales director of the company remarks:
"We are excited to be able to go to Dubai for the Hotel Show this year, with it being one of the biggest shows of its kind, we have a larger audience to show why we are still the world's leading evacuation chair company."
Highlighting the requirement of such emergency evacuation precautions, Health+Safety At Work reminds the readers that:
"By law, as detailed in the Equality Act (2010), all places of employment, schools, clubs, offices and public buildings must provide adequate access and egress facilities for all persons with disabilities who may enter or exit a building. If not provided, the establishment can be found guilty of corporate manslaughter and hevily fined."
References:
http://www.healthandsafetyatwork.com/hsw/products-services/evacchair-international-exhibit-hotel-show-dubai