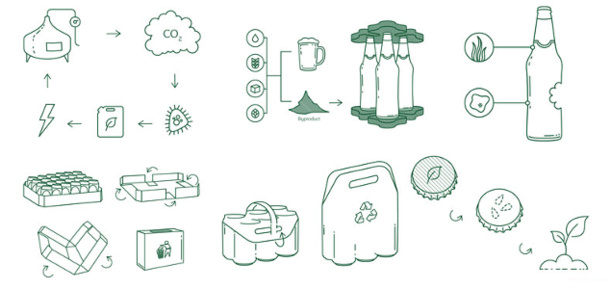 Dailycsr.com – 07 December 2015 – Carlsberg Group has agreed to the submissions for the competition of "Cheers to Green Ideas". The said competition is hosted in partnership "with think tank Sustainia". As per the competition rules, various organisations and individuals alike were approach to provide ideas for "how to make Carlsberg more sustainable".

The competition has now reached its final stage whereby its six finalists' names have come out. There is two winners and their names have been announced on the 6th of December 2015, coordinating with the "COP21 climate conference in Paris".

The highlights of the competition for the participants were three challenges as follows:
how to package beer in an eco-friendly way,
how to increase recycling,
how to use less water and energy during production

There were two award categories, for which "three finalists" got chosen in each category. In total, hundred sixty two ideas were submitted by "entrepreneurs and consumers" coming from thirty three different countries.

The first three finalists ideas in the category of the "Cheers to Green Ideas Award" are as follows:
Using microalgae to produce biomass, by Guillermo Luque Consuegra and Michael Malott from Spain and the United States. The use of microalgae in waste water treatment, the creation of biomass, and other processes could reduce breweries' environmental impacts and costs over the long term.
Using brewers' spent grain as a wood substitute, by Ana Lima from Portugal. She suggests spent grain could be used to replace various materials, for example, wood products used in coasters.
Edible beer packaging, Skipping Rocks Lab's Ooho! packaging. Ooho! is made out of seaweed and a calcium-chloride based membrane for an edible, biodegradable beverage container. The solution was suggested for the competition by John Boerrigter of the U.S.

While, the other three finalist ideas for "JC Jacobsen Special Award" were:
Turning cardboard frame into a trashbin, by Frederik Sperling Nygaard. Frustrated by the waste created by festivals and other large events, Nygaard's idea is to create a portable recycling bin out of the cardboard tray that beer cans are sold in to promote recycling and encourage event attendees to think about their recycling habits.
Plastic bag from bioplastic for holding six-packs together, by Marika Énglen. Bioplastic is made from renewable biomass sources. Énglen's idea is a unique design that would use the material first for Carlsberg can six-packs, then as a regular plastic bag for other products besides beer.
Green consumer ideas, by Søren Højland Boesen. Boesen submitted ideas for lightweight beer crates and better beer caps. He suggests the beer bottle caps could be magnetic to be more fun and engaging for the customer (rather than simply metal waste), or could be made out of sustainable materials to encourage recycling, or could contain seeds customers could plant.
In anticipation of the event, the Carlsberg Group's vice president, Charlotta Lyon stated prior to the function:
"I'm very excited about the many ideas we received and look forward to exploring how we can use them in our quest to make our beer more sustainable, together with the winners.. The global reach and interest in the competition shows that by engaging with our stakeholders in new ways, we can get creative sustainable ideas into the business."
References:
http://www.sustainablebrands.com/