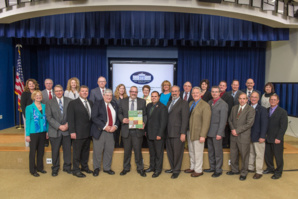 In order to promote and recognize outstanding practices in dairy farms, partnerships and businesses, which not only promote health and happiness for the cows, employees, business, communities, consumers and the planet but also focuses on the environment as well, the Innovation Center for U.S. Dairy®, announced the winners of the fourth annual U.S Dairy Sustainability award.

"This year's award winners truly are changing the equation for what the industry and consumers think about sustainability. Each winner has a unique commitment to sustainability that has strengthened their connections with their communities, ensured the stability of the waterways and wildlife surrounding their properties, and blazed new trails for other dairy farms and businesses to follow," said the President of the Innovation Center, Barbara O'Brien.

This year's sustainability program recognized water conservation efforts, as well as efforts made towards community-based food waste recycling program which increases access to fresh milk for needy families. The winners were selected based on the principles of the triple bottom-line success. In this method results are measured and seen through the prism of three main criteria: environmental and economic impact and its effect on the community. When assessing the candidates, a panel of independent judges, which includes experts from the dairy industry, also assess the candidates based on innovations, demonstrated learning, scalability and improvement, so as to select winners.

"To continue to pass their farms and companies down to the next generation, this year's award winners have done an excellent job improving upon best practices and serving their communities. I am excited to share their successes so they can easily be adopted by others in the industry," said Paul Rovey, a member of the judging panel, who is himself a dairy farmer from Arizona, as well as the chairperson of Dairy Management Inc.

The following are the winners of the U.S Dairy Sustainability Awards for 2015, in their respective categories:
Outstanding Achievement in Resource Stewardship

Freund's Farm, East Canaan, Connecticut- Created a successful side business with their innovation of the CowPots®, which is a biodegradable gardening container constructed out of composted manure. CowPots reduce phosphorous that gets built-up in the soil. They have also invested heavily into renewable energy: their entire electrical requirements are being met by solar energy. Employing 11 full-time and 15 seasonal workers, they have ploughed back $2million into the local economy.
Honorable Mention: T-Bar Dairy and White Gold Dairy, Porterville, California – They were the first dairy farmers, from the water-starved Central Valley, California, to successfully implement conservation tillage, which combines the strip-till and the no-till methods to manage water scarcity, minimises the usage of fertilisers and fuel as well as reduced dust particles in the air.

Outstanding Dairy Farm Sustainability

Dorrich Dairy, Glenwood, Minnesota – So as to reduce and control flies at acceptable costs, the Vold family introduced wasp larvae as part of their integrated pest management system. This has resulted in the reduced usage of pesticides and has brought down fly control costs by as much as 85%, thus boosting not only the health of the cows but it has also brought about sound environmental and financial practises.
Nobis Dairy Farms, St. Johns, Michigan – So as make their cows more comfortable, the Nobis brothers, used to make sand beds for them. But since 1974, they could not figure out how to separate and clean the sand from the manure. Today, thanks to the helping hand they received from research teams from Michigan State University and McLanahan Corporation, they have not only solved this problem, but have also eliminated the usage of excessive fresh water as well as maximise nutrient management in their dairy.
Oregon Dairy Farm, Lititz, Pennsylvania - By composting food waste along with cow manure, the Hurst family has produced a rich source of compost which is a gardener's delight. Additionally, 10% of the power is being met by solar, and their anaerobic digester helps reduce global warming, by capturing methane gas from manure which is then turned into electricity so as to produce hot water.
Honorable Mention: Alliance Dairies, Trenton, Florida - The installation of a comprehensive water management system has led them to installing a custom designed methane digester for a freestall barn flush system. Thanks to this innovative method, which not only protects the quality of the community's water but also generates electricity from it.

Outstanding Dairy Processing & Manufacturing Sustainability

Hilmar Cheese Company, Hilmar, California - By investing in a water management system, the Hilmar Cheese Company, which makes 2 million pounds of cheese a day, has managed to recover almost 100% of the water from the milk, used in making the cheese. This recovered water, after due treatment at the plant, is utilised for irrigating crops and for landscaping purposes. The Hilmar Cheese Company was the first dairy in the U.S to receive the LEED® Platinum certification.

Outstanding Achievement in Community Partnerships

​​HP Hood LLC and CleanWorld, Sacramento, California - HP Hood LLC along with CleanWorld organised and created a system wherein HP Hood's 35 tons of biodegradable waste a week is combined with other food wastes contributed by local retailers and restaurants and fed into a biodigester. The biodigester then processes it to provide organic products ranging from rich liquid green fertiliser which can be put to use in nearby farms, renewable fuel which can be utilised to run fleets of private and public trucks, and electricity which is utilised to power itself as well as other local waste management facilities.
Honorable Mention: Northern Illinois Food Bank and Prairie Farms Dairy, Geneva, Illinois - This dairy and food bank came together to partner the 'Milk 2 My Plate' program. This program ensures that all those families who depend on the food pantry for their needs, are adequately supplied with their requirements. This community based program serves as a model for other food bank across the country. To date they have distributed more than 194,000 gallons of milks to 34 food pantries in the network.

References:
http://www.businesswire.com/news/home/20150508005662/en#.VU81O46qqko