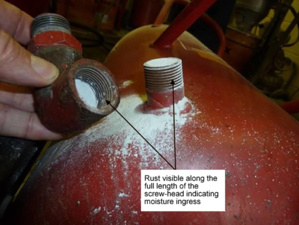 Dailycsr.com – 27 August 2015 – The powder extinguishers that were manufactured between the years of 1970 to 2009 in the "Norfolk range" receive an alert. The warning prevails over various premises which include the mines, warehouses, factories, engineering workshops, merchant ships, chemical facilities along with mineral and metal processing units.
Recently, "45kg of Monnex dry powder" fire extinguishers stored in three wheeled containers didn't discharge even after its activation followed by a fire that was accidentally set in a chemical plant. The reason behind the dis-functionality of Norfolk, according to HSE is that the threaded joints situated at the base of the extinguisher units were "affected by moisture ingress" which makes them "inoperable".
HSE recommends that the dry powder extinguisher owners of Norfolk region should "inspect" their extinguishers in order to confirm whether their respective units contain a "discharge tube connected to the bottom". Moreover, the extinguishers that were "exposed to adverse conditions" after their "last extended service" are to be examined by a "competent" service engineer, who will inspect the elbow joint situated at the unit's bottom.
Health and Safety reports that HSE ordered the engineers to
"...closely examine and, if necessary, remove the elbow to confirm if there is evidence of water in the discharge tube".
In case of any moisture presence which is "affecting the powder in the tube", the engineers on duty are advised to "consider" the options of sending the ones concerned for an "extended service" which will also allow the replacement of the dry powder.
The Britannia Fire has introduced a "revised design" for the Norfolk fire extinguishers which doesn't come under the alert of HSE because in the new design the hoses are fitted "on top of the unit" instead of the base. Moreover, HSE suggests that:
"Anyone unsure if their extinguishers are affected should consult
Britannia Fire
on 01508 488416."
Source(s):
http://www.healthandsafetyatwork.com/hsw/hse/safety-alert-wheeled-fire-extinguishers-norfolk