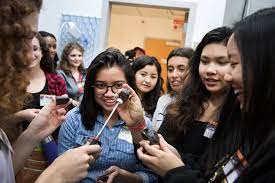 STEM professionals play a crucial role in America's innovation and global competitiveness, and there is an urgent need to nurture a skilled STEM workforce. One specific area that offers significant potential for growth is the participation of women in STEM. Despite comprising almost half of the U.S. workforce, women remain significantly underrepresented in science, technology, engineering, and math fields.

Al Mitchell, President of Bayer Fund, emphasizes the importance of acknowledging organizations that promote the advancement of women in STEM roles, particularly as we celebrate International Women's Day in March. Bayer Fund proudly supports Fontbonne University's Girls in Science program, which focuses on engaging middle school girls in science and technology by igniting their interest at an early stage.

Dr. Kelly Lane-deGraaf, associate professor of biology at Fontbonne University and the program's creator, highlights that capturing the attention of students in grades 7-9 and inspiring them to consider STEM careers can be achieved through role modeling, representation, and providing realistic experiences.

"Research shows that middle school girls lack real-life mentors in the sciences, reducing the likelihood of careers in science," Dr. Lane-deGraaf says. "By enabling middle school students from historically excluded identities to come to a university, interact with women and other minority scientists, learn the practices of science, see experiments fail and have the opportunity to learn from those experiments, the Girls in Science program facilitates learning science in a real laboratory."

The Girls in Science program offers a variety of engaging opportunities for young girls interested in STEM. It organizes multiple two-week residential summer camps held on the premises of Fontbonne University. Additionally, there are academic-year programs available, offering both in-person and remote options for participation.

Dr. Lane-deGraaf, the program's creator, emphasizes that the curriculum is exclusively developed by women scientists who specialize in various fields. The program aims to emphasize experimental design, critical thinking, and research skills, including troubleshooting. Moreover, it provides participants with a glimpse of college life and the chance to meet and befriend girls from across the St. Louis area.

In the summer of 2023 and the academic year 2023-2024, the program will focus on Biology/Ecology (covering genetics, parasitology, animal behavior, and modeling and data analysis using R), Chemistry & Physics (including spectroscopy and chromatography, water chemistry, and electrochemistry), and Exercise Science (encompassing kinesiology, sports nutrition, and fitness analysis).

The Girls in Science program has experienced remarkable growth since its launch in 2015 by Dr. Lane-deGraaf with just five girls and no funding. Thanks to annual grants from Bayer Fund, the program has expanded its reach significantly, impacting approximately 500 girls during the 2020/2021 period.

Pre- and post-surveys conducted as part of the program consistently demonstrate positive outcomes, including:

Increased interest in science careers (5-year average: from 35% to 92%)
Enhanced perception of science as enjoyable (5-year average: from 48% to 100%)
Heightened belief in science accessibility (5-year average: from 46% to 100%)
Improved comfort with embracing mistakes (5-year average: from 18% to 83%).

"In 2020, our first cohort of Girls in Science participants entered college, and follow-up surveys show that they are actively pursuing careers in science – 2 reporting interest in attending medical school; 2 in attending schools of veterinary medicine; 1 in civil engineering; and 1 in attending graduate school in genetics!" said Dr. Lane-deGraaf.

In an era of growing technical advancements, prioritizing STEM opportunities for young women yields substantial benefits for their personal futures and, in turn, contributes to the betterment of our collective future.