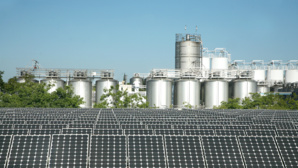 Dailycsr.com – 04 December 2015 – The founder of Smuttynose Brewing Co. Mr. Peter Egelston informs that his endeavour of making "green brewery" began with the "building envelope". The said brewery is located on the coastal region of New Hampshire.

The term "building envelop" refers to the "interface between a building's interior and the outside world", which includes the "exterior walls, windows, doors, the roof and foundation" as well. Besides the structural angle other facilities like ventilation, heating, and electrical cable lay out lay an important part in rendering a building energy efficient, whereby keeping "the interior temperature consistently cool or warm" and "ultimately saves money".

In fact, Egelston paid particular attention to motivating his team in order to keep everyone on the same page, which he admits "was both an economic and a strategic response to Smuttynose's location". The local breweries have been adopting to a lot of creative solution to tackle weather related issues, to which Egelston remarks:
"Being sustainable these days isn't only about reducing our carbon footprint or saving resources and money. It also means adapting to weather-related incidents — heat waves, freakishly snowy winters, heavy rains and drought. Sounds pretty grim when you rattle them off – but it's a new reality."

The growing shortage of water, caused by the consecutive fourth year of drought, in some "parts of California" is becoming an alarming issue to the brewers' industry. Owing to the scarce availability of water many breweries had to but reduce on their production level. Likewise, the "sustainability manager at the Sierra Nevada Brewing Company" thinks that the "enduring drought has certainly highlighted the critical need for adaptation", whereby she states:
"We've been trying to be good stewards and all of the low-hanging fruit has been picked – things like automating more systems, which reduces the risk of human error and waste, and making sure all of the brew house hoses have highly-controllable nozzles and flow meters so we can identify leaks".

Furthermore, she also informs about a "CO2 recovery system" which would "capture the gas" that's formed in the process of "fermentation":
"This not only prevents CO2 from fermentation from immediately entering the atmosphere, but eliminates almost all of the need to purchase CO2 which eliminates a great deal of trucks from the road".

Moreover, the trend to turn towards sustainable development can be observed almost throughout the brewery industry as the Green Brewery Project's Jarett Diamond also thinks that in order to cope up with the dependency on the "natural resources" brewery industry needs "to get serious about sustainability", which he arrives at by better planning, water management, and turning to green energy sources.

He holds the SAB Miller, a South African Brewers' group, as an example for experimenting with "the indigenous and plentiful cassava root as a more sustainable, local and less expensive replacement for barley malt, which doesn't grow well in tropical climates". Some breweries are even "taking advantage of geothermal energy sources that are abundant in the northwest", says Diamond, while adding:
"It's my theory that the breweries that are best equipped and have adapted to using fewer resources, less electric, natural gas, less water are going to be the ones that can sustain themselves through the coming sea change in the brewing industry".