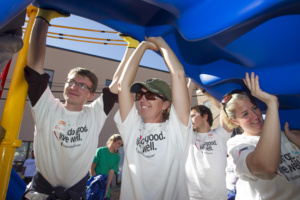 Dailycsr.com – 08 October 2015 – In a collaborative effort of various groups almost over two hundred volunteers lent their hands in creating "a new playground" for the children of "Children's Services of Roxbury" which is situated "within YouthBuild Boston". The companies that joined in this venture, along with the residents of Boston, are:
"New England Patriots Charitable Foundation, the New England Revolution Charitable Foundation, and UnitedHealthcare."
The new playground measures "2,400-square-foot" and is equipped with rock climbing options, "triple racer slide", other wall activities like "tic-tac-toe" to mention a few. The president of "Children's Services of Roxbury", Sandra M. McCroom states:
"We are grateful for our new state-of-the-art playground. It will support our children's social and emotional development in a safe space. Through play, they will use their imaginations, exercise, solve problems, learn, grow and thrive."
The Children's Services of Roxbury was founded in the year of 1968 as a non-profit organisation that took care of the increasing "number of African-American children", as they required adoption homes and fostering facilities. Since then, it was developed whereby providing "critical services" to all human races; children, people and families belonging to various "ethnic and linguistic background" have profited equally from its service.
Moreover, it arranges for "emergency and transitional housing services" for the ones in need. Under its wide range of programmes, the organisation also imparts "early childhood education", housing support either for emergency requirements or on permanent basis, health services and child adoption or foster care.
The "national nonprofit organization" KaBOOM, that aims to "bring balanced and active play into children's daily lives", also formed part of the project. In YouthBuild Boston's executive director, Ken Smith's words:
"Participation in this project promotes the core values of the youth we serve and provides an important avenue of growth for the young people in our community".
However, YouthBuild Boston began to function from the year of 1990 in order to provide support the "underserved youth" with appropriate "credentials" so that they can become successful in the trade line. Interestingly, the young population of Boston also helped in the building of the said playground, they were involved in "the site preparation, landscaping and planning for the playground build". The New England Patriots Charitable Foundation's President, Josh Kraft mentions:
"We're proud to be working with UnitedHealthcare on our sixth playground together. We hope this playground will enrich the lives of children at Children's Services of Roxbury and demonstrate the importance of volunteering and giving back to the community."
While the president of New England Revolution, Brian Bilello remarks:
"It's great to be working with UnitedHealthcare to construct a playground that will help the youth of Children's Services of Roxbury participate in healthy activities".
Furthermore, the UnitedHealthcare's New England branch's C.E.O, Stephen Farrell said:
"UnitedHealthcare's employees are honored to help build a playground that will give local children a safe place to play and exercise outdoors with their friends and families, while creating healthy habits that will last a lifetime".
References:
http://www.businesswire.com