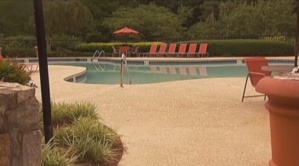 Dailycsr.com – 27 August 2015 – A school trip consisting of a teacher, an assistant and twenty three children went to visit the "Open Air Pool" at Stonehaven in the month of 2012, wherein a boy, a student of Ferryhill Primary School was also present. On the 12
th
August 2015, the Aberdeen Sheriff Court was informed that the pupil of Ferryhill Primary School was recovered from the pool in a state of unconsciousness after he got submerged into the pool. The public rescued him from the pool's bottom after which the boy recovered from this incident.
The pool authorities allowed the school children to swim in the pool even though the party didn't have any prior "formal booking". The pool has a depth of "2.2 meters" on its deep end while the shallow measures "0.8 metres". Moreover, the deep end also has a water slide.
While the group of children were busy swimming in the pool and playing on the slide, someone from the public present there noticed "a shadow under the water at the deep end". The boy was then, rescued out of the water's depth and lifted to the safety of the poolside by the person who detected the boy's shadow under water. He immediately "alerted lifeguards" present at the pool, who came down the poolside and were successful in reviving the boy.
Furthermore, the Health and Safety informs that:
"Aberdeen City Council, which runs Ferryhill Primary School, and Aberdeenshire Council, which operates Stonehaven Open Air Pool, pleaded guilty to breaching
Section 3(1)
of the Health and Safety at Work Act".
However, HSE claims that the management of the pool is to be blamed for its poor staff levels along with the positioning of the lifeguards, while the educational excursion management of school is equally at fault. While no penalty was "awarded in Scotland", the Council of Aberdeenshire paid a fine of "£4000" along with the "Aberdeen City Council" that was fined "£9000"; although the inspector at HSE, Sarah Forbes remarks that this incident should not be taken as example for the organisers to plan and participate such school excursions in the future, as it is only a matter of applying a basic safety measure which can prevent such mishaps easily. The inspector commented after the hearing.
Source(s):
http://www.healthandsafetyatwork.com/hsw/risk-assessment/aberdeenshire-council-aberdeen-city-council-pool