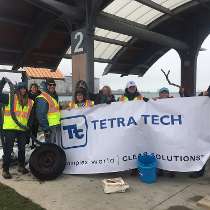 Tetra Tech Federal IT Innovation Lab
has designed a solution that uses artificial intelligence (AI) and machine learning (ML) to efficiently extract and validate unstructured data across images, PDF forms, and documents.
Compono, Tetra Tech's solution,
supports consistent and accurate data across documents, regardless of the document's format. Even if the structure of a document or that of the form changes, Compono can automatically continue to extract data without any additional special configurations.
Compono slashes the processing time of scanned documents and images from days to minutes, eliminating the need to rewrite data that's already captured within a document, be it free form text or handwritten notes.
Compono's benefits include significant reduction in processing speeds through automatic data extraction and validation, built-in scalability that processes millions of documents within minutes, data mining for analytics reporting and has the ability to maintain a concise audit trail.
In a gist, Compono can:
Turn unstructured forms (JPGs / PDFs) into structured data
Identifies values in the form even when the format changes
Validates form values and fields
Checks form values for consistency across forms
Real-world examples
Homeowner Relief Program: in response to natural calamities as well as to manage delays, Disaster Relief needs to process more than 8,200 claims for its homeowner relief program, with each claim requiring specialists to compare and validate more than 20 form sets. Each case also must be validated to confirm that driver's license, passport, property records, tax forms, insurance records, and application form are all consistent. With Compono, the intake process that currently takes two days is shortened to a few minutes.

Employee Onboarding: In the employee onboarding process, managers submit up to 10 unique onboarding forms; filling up each form is not only time consuming but also repetitive in nature. Compono automatically confirms the correctness of all onboarding forms, expediting the onboarding process by up to 80%.

FOIA Requests: Business analysts have to key in a variety of data manually in individual forms so as to comply with the Freedom of Information Act (FOIA) program. Each FOIA request may have up to 400 form values which need to be entered into the FOIA's record system.

Compono has sped up FOIA requests by capturing the form values and feeding the data into the FOIA record system, automatically reducing processing hours by up to 80%.