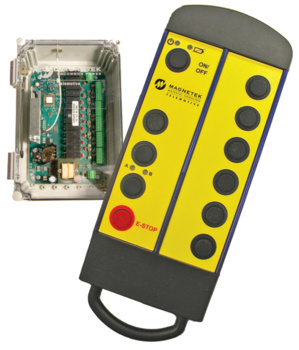 Dailycsr.com – 22 February 2016 – In the range of "D3 generation radio controls", Terex Material Handling has introduced "new models".
The new comers feature the "compact DRC-MJ" fixed with a "hand held transmitter" that comes from "Demag facilitates" with "ergonomic joystick control" in a crane system that can be operated with one hand. Earlier, the operators had to do away either with pushbutton fitted compact unit or they had "large control unit" that comes with joysticks.
However, when it comes to "Demag DRC-MJ controller", it provides a sweet spot with the benefit of both system whereby combining "the convenience of joystick control" that allows "all motions" along with the "ergonomics of a compact hand held unit".
Moreover, the outer cover of the "new control unit" has been designed after the Demag DRC DC's "hand held transmitter". The surface cover is made of "impact resistant" material that comes with a smooth texture and shows resilience "to mechanical loads".
References:
http://www.healthandsafetyatwork.com/