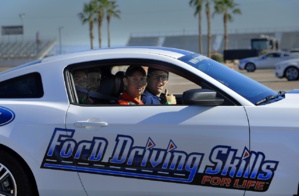 With the summer holidays setting on, driving schools are the new schools teenagers are thronging. More than 1500 teenagers will be attending free camps across six states where they will be schooled in the art of driving. Schooling need not necessarily be boring. In these free camps, they will be taught how to handle vehicles on slippery slopes, and avoid road kills.
The
Ford Driving Skills for Life
(DSFL) has hands-on approach to teaching kids driving skills. Wearing specially designed suits that mimic being under the influence of drugs or alcohol and adorned with specially designed goggles which blurs or reduces their field of vision, this training will teach them the dangers of impaired driving.
This is a first of its kind summer camp for kids and their parents and it begins from the 7
th
of July and runs through August. The tour is also available in Wyoming, Nebraska, Wisconsin, Iowa and South Dakota.
"Our program is focused on providing young and inexperienced drivers with the training and tools they need to stay safe behind the wheel. We are excited to bring this program to these states for the first time as we look to provide an extra step in the learning process for new drivers," said Jim Graham, Ford Driving Skills for Life's manager.
The summer camps are being held in partnership with the Governors Highway Safety Association (GHSA). It is being held at a time when traditionally teens are at a higher risk of driving accidents since they are out and about looking for job opportunities, etc.
"Summer is an especially risky time for teen drivers. More teen driving-related deaths tend to occur in June, July and August than any other month. So it's particularly timely that Ford Driving Skills for Life is taking its show on the road, hitting six states during the heart of this dangerous driving season," said GHSA Executive Director, Jonathan Adkins.
Here is the detail of the tour:
July 7-8, Fargo, North Dakota
July 11-12, Omaha, Nebraska
July 15-16, Des Moines, Iowa
July 18-19, Madison, Wisconsin
July 25-26, Sioux Falls, South Dakota
Aug. 6-7, Cheyenne, Wyoming
During these summer camps, there will be four half day sessions, each session covering the entire DSFL course of hazard recognition, space management, vehicle handling and speed management. So as to accommodate all, participants are requested to register for only one such session.
Impaired driving
Deaths from crashing motor vehicles is a leading cause for concern for American teenagers. As per the CDC, teenage drivers are three times likely to be involved in a fatal crash than experienced drivers. Drinking alcohol and driving or being under the influence of drugs enhances this risk many folds. According to a 2012 CDC study in which six states were participants, the number of teenagers who said they were driving under the influence of alcohol, was highest in summer.
Given this scenario, the Ford DSFL came up with the idea of holding summer camps which features amongst other things impaired driving skills.
Parent participation
Teenagers as well as their parents are welcome to join and participate in these summer camps. Parents play a significant role in shaping the driving habits and skills of their kids, so they are welcome to join as well. The summer camp is open to all kinds of drivers new or experienced.
References:
http://www.businesswire.com/news/home/20150706005548/en#.VZ5B6l-qqko