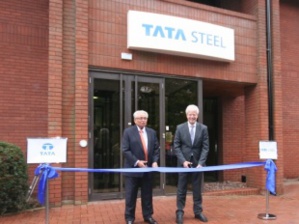 Dailycsr.com – 30 October 2015 – The Science Park at the University of Warwick will incorporate a new U.K based research centre funded by Tata Steel. Researchers and engineers alike will experiment with "new steel coatings" which will include "graphene" at the new research venue.
The inauguration of the said laboratory is only the "first phase of Tata Steel's relocation of its UK R&D work to the University of Warwick campus". Likewise, Tata Steel plans on developing a new variety of materials that will cater to customers' "future demands" like sourced by renewable energy or with increased efficiency of fuel in cars as well as aircrafts.
The chairman of the "Warwick Manufacturing Group", Lord Kumar Bhattacharyya along with the Tata Steel European operation's Chief Technical Officer, Hans Fischer inaugurated the new laboratory centre, whereby Mr. Bhattacharyya remarked:
"We are delighted to welcome Tata Steel here to the University of Warwick. Advanced steels research is crucial for the nation, and for manufacturing. This move shows Tata Steel's long term commitment to research and development within the UK."
While Hans Fischer stated:
"This new facility demonstrates our determination to develop innovative products which help our customers become more competitive. We will be working with world-class scientists and researchers to create new steels for customers who are shaping the low-carbon technologies of tomorrow. I'm delighted to be strengthening our ties with UK academia that are already well rooted here at Warwick, as well as at Cambridge, Sheffield and Swansea universities and Imperial College, London."
Furthermore, the director of Research and Development Group of Tata Steel, Debashish Bhattacharjee informed:
"Opening this new R&D centre at the University of Warwick is a major step towards consolidating and strengthening our R&D in the UK through collaboration in a single location with a knowledge centre and with some of our customers. This will help us accelerate our open innovation activities and our processes to manage how we create new ideas and translate them into value addition to our customers."
The said research centre plans on bringing together "metallurgists, product engineers, data scientists, researchers and technicians" whereby the following phase of the project aim at pushing the "laboratory facilities" further which will eventually flourish in to a hub for advanced steel research" accommodating "Tata Steel's three professorial chairs in steel research at Warwick".
Moreover, the manager of 'Surface Engineering Department", John Collingham commented:
"The university campus is a dynamic and inspiring place to work, with many new buildings under construction, including the National Automotive Innovation Centre and the Advanced Steel Research Centre. Our new facility and our team of highly motivated and enthusiastic researchers will be the catalyst for a new generation of innovation."
References:
www.europe.tata.com