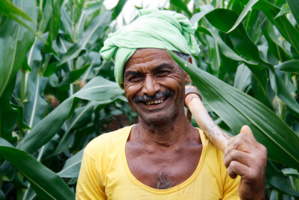 Dailycsr.com – 25 February 2016 – Tata Power takes another step to fulfil its promise of "promoting the agriculture sector in India" by propagating "best agricultural practices" among the farmers. Likewise, Tata Power took up the initiative of "a special farming programme" that covered sixty seven villages and till date reached out to "more than 4,000 farmers" in the area and neighbourhood of "Maval, Bhivpuri, Jojobera and Mundra".
The programme has been launched with the objective of enhancing the "agricultural yield and income" for the farmers, whereby it stresses on "unique farming initiatives" that teaches how to develop a fallow wasteland into an agricultural field, besides "recharging ground water", harvesting methods, and recreating "traditional water structures". Moreover, the project also guides in increment of yield and productivity and introduces "new crop variety".
The Jharkand based "Tata Power Jojobera" plant and Gujarat based Mundra plant have also joined in "farm bunding", besides giving demo in drip irrigation, "well recharge", horticulture, pond or "check dam" renovation and fodder plot creation. As a result, the said initiative has managed to convert fallow plots into arable ones and recharged the level of ground water.
In fact, the state of Maharashtra, wherein farmers have adopted "the system of rice intensification" and "cash crop vegetable farming" leading to an increased income, since the year of 2011, was also the result of Tata Power's programme. Keeping in line with the said initiave, Tata Power also started "Kisan Sheti Shala", a farming school to tutor the best agricultural methods like "vertical farming", "low cost treadle pump" and "forest home garden" to the farmers.
While, the CEO cum the Managing Director of Tata Power, Anil Sardana commented on the initiative:
"India is an agriculture-based country where we rank second worldwide in farm output. The agriculture sector is an important contributor to the GDP of the country. However, in recent times the economic contribution of agriculture has been steadily declining due to sectoral issues. It is Tata Power's endeavour to work closely with its key communities ie farmers around its area of operations to make them self-sufficient and independent. We aim to stimulate interest, promote innovative ideas, best practices, and increase productivity in order to present agriculture as a business model. Through this programme, farmers will be able to come forward with innovative ideas and best practices to evaluate the productivity of crops and improve the yield of the land. The positive impact of the programme can already be seen clearly where farmers are gaining their confidence and interest in the farming sector. In coming times, we aim to explore technology driven models to help farmers with better price and weather forecasting capacities for support their cultivation plans and scale it up across. This initiative is aimed to complement the Model Village Concept of Tata Power from the livelihood aspect."
References:
http://www.tata.com/