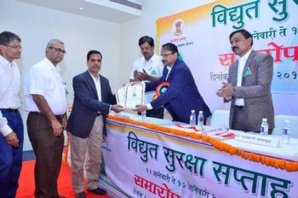 Dailycsr.com – 02 March 2016 – The largest "integrated power company of India", Tata Power has committed itself to ensure the safety of the locals "in and around" its operation areas, whereby prompting safety measures among them. In recognition to the efforts made by Tata Power in order to fulfil its above mentioned commitments, the company received the "certificate of appreciation" along with "a memento" for being an active part in the "electrical safety week" held in the city of Mumbai.
Tata Power received the certificates for the performance of its four divisions, namely transmission, hydro, distribution and transmission projects. All the four divisions work in a 'commendable' manner to promote "safety measures" and to ensure "zero incidents in the last one year".
The government of Maharashtra, organised the Electrical Safety Week, which hosted street plays, "distribution of promotional material", rallies and demonstrations. Over forty employees of Tata Power were present in the inaugural function that set the tune for the following week. According to Tata Company, as many as sixty five employees took part in the "Suraksha rally" that began from "Shivaji Park" and ended at the "Tilak Nagar".
Additionally, the employees were also active participants in demonstrating "several safety posters, along with "hand bills and equipments" to raise the awareness of the general public. The employees became a part of the events with great enthusiasm and in return were given certificates by the Mumbai "electrical inspector".
The COO of the company commented:
"We are delighted that our efforts to promote safety and ensure safe working conditions around our project areas, have been appreciated. Safety has always been a core value at Tata Power and we will continue organsing such initiatives in the future, for the betterment and well-being of surrounding communities."
Furthermore, the Tata Company adds:
"The chief electrical inspector presented the certificate of appreciation to Vijay Chourey, Rajendra Saraf and Suresh Sanvatsarkar, who received the honor on behalf of Tata Power. A TV programme sponsored by Tata Power was also part of the electrical safety week, wherein a discussion on electrical safety was held with electrical inspectors and witnessed the active participation of PL Manjrekar from Tata Power. A street play on safety was also organised and the team was sent to various districts and villages across Maharashtra".
References:
http://www.tata.com/