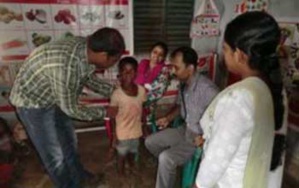 Dailycsr.com – 29 December 2015 – Tata Power, being the front runner and largest "integrated power company" in India, continued to empower students by organising "educational initiatives and knowledge sessions" within and around the regions wherein it operates.
The Community Development Trust, an initiative of Tata Power, formed under the Tiruldih project, extended a hand in partnership with "Rah Society", in order to facilitate an improvement in the "service delivery system of the existing anganwadi centres near Chars, Kuda, and Tiruldih village". Rah Society is a nongovernmental organisation that works in the education sectors of rural India.
It is an attempt to create an apt environment for "pre-school" wherein children will be given "basic learning before being introduced to formal schooling". The programme also looks after medical assistance through "a lady dietician for regular health check-ups" which is performed on a six monthly basis.
Consequently, the current "status of the children's health" can be monitored and the ones who are suffering from the spell of malnutrition can be identified and measured so as to "improvise the situation". Moreover, the programme assists in increasing the "attendance at the anganwadi centres" by an approximate thirty percent right in the first month.
Talking about the programme, the chief corporate of projects at Tata Power, Asim Thakurta said:
"Children must be taught and moulded on how to think so that they could achieve excellence in every sphere of their life by building a strong educational foundation. I assure that we will always work towards initiating such innovative projects for the betterment and upliftment of the society on an everyday basis."
The kids under to discussion session with the lade facilitators who interact with them to enhance their "aptitude and attitude". The programme is consisted with facilitators trained in "child pedagogy" which enables "smooth functioning and implementation of the initiative".
Furthermore, the initiative provides joyful learning experiences and equips the kids "for better cognitive, social, emotional, and physical development".
References:
http://www.tata.com/