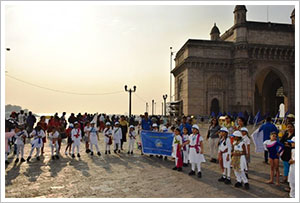 Dailycsr.com – 28 December 2015 – Tata Power has initiated a "nationwide movement" through "Club Enerji", which has been busy with ceaseless work of "spreading the message of being responsible citizens". Being responsible citizens requires one to conserve "energy resources across the country" besides "instilling civic and moral values". It is a part of a "strategic focus" for creating a nation.
Being true to its commitments which echoes the spirit of the "recent National Energy Conservation Week", Tata Power initiated Club Enerji's students "from Pawar Public School in Kandivali" conducted an "awareness rally in Mumbai". The motive behind this rally was to enhance "social awareness around the necessity of energy conservation".
In an attempt to "educate the public at large", the said initiative took help of various natural resources and energy conservation methods. Moreover, it also encouraged children to "become socially responsible citizens of the country". The rally touched around "2,000 people" with a sensitive message, wherein hundred sixty five students from the age of thirteen to fifteen took part and propagated "slogans on energy conservation".
During the preparatory period of the rally, the students got together to "create posters, banners, and placards with paintings depicting various ways to conserve resources". At the concluding notes of the event, the teachers and students planted fourteen trees in the school premise. The concluding act symbolises "their commitment towards a greener world". The Managing Director and the Chief Executive Officer of Tata Power, Anil Sardana, spoke on this initiative:
"Tata Power's Club Enerji is not just a cause or an initiative, but a revolution that has played a vital role in aiding young minds. The youth have undoubtedly been the core influencers in advocating energy and resource conservation. The actions and contributions of the students have come a long way in making a positive impact on the environment. We would like to thank the students and management of Pawar Public School for extending their whole-hearted support and making this rally such a grand success."
Club Enerji has been "contributing extensively" through its initiatives towards creating "a brighter and greener tomorrow". In fact, it has already undertaken various "successful initiatives". Moreover, the Tata Company informs:
"The savings of 14.2MU of electricity is equivalent to saving 14,200 tonne of CO2 and is enough to light up over 6,943 houses for a year. Tata Power's Club Enerji has won numerous accolades and has been recognised as a best practice in forums like Learning Mission by the Tata group".
Moreover, IIM Ahmedabad has also conducted a case study on Club Enerji's programme. The list of awards won by Club Enerji also includes:
"the gold at the ABCI awards in the category 'best communication material' and bronze for its resource conservation module; Asia Pacific Enterprise Leadership Awards (APELA), Singapore, has conferred 'APELA 2012 - Eco Advocate Award' to Club Enerji".
References:
http://www.tata.com/