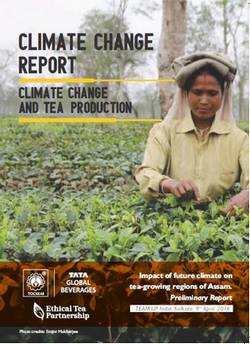 Dailycsr.com – 19 April 2016 – Tata Global Beverages in association with the Ethical Tea Partnership has given the responsibility of identifying and recording any indications of "climatic changes that will impact India's tea growing regions in the next 50 years" to the Tea Research Association.
Among the other supporters of this project include "Tata Global Beverages (TGB), Tea Research Association, (and) IndiaandEthical Tea Partnership". The abovementioned study has been named as "The Impact of Climate Change on Tea Growing Regions of Assam, India". Four tea production areas of Assam will be covered in the study, namely "Upper Assam, South Bank, North Bank and Cachar".
With the help of "existing baseline data" combined with the U.N's "Intergovernmental Panel on Climate Change (IPCC) Fifth Assessment Report", researchers are extrapolating scenarios of "tea growth" in the abovementioned four regions by the year of 2050.
The report is aiming to find out the suitable places which will remain favourable for cultivating tea, while those that will require adaptation and eventually others that may become unsuitable for tea cultivation. The Deputy Director of Tea Research Association, RM Bhagat informed that the "preliminary findings indicate" the south bank region, parts of Upper Assam and Cachar are the suitable regions whereas north bank region is comparatively less suitable".
Nevertheless, the extrapolation figures state that by the year of 2050, the regions suitable for tea in Assam will "reduce drastically", whereby pushing tea production sector to "comparatively higher and cooler altitude areas".
The Managing Director and the Chief Executive Officer at Tata Global Beverages, Ajoy Misra commented on the said initiative:
"Tea growing regions are likely to be severely susceptible by 2050 to changing climate, if adaptation measures for combating the change are not adopted. As an industry, we need to collectively take corrective steps to ensure that that we conserve energy and other scarce resources. A fast growing economy like India will need to focus on being an economic powerhouse and also a global environmental leader."
"Tata Global Beverages is the world's 2nd largest tea company and this initiative will help us contributeto a sustainable and progressive future for the tea industry that also creates a positive societal impact".
During workshop that took place in Kolkata, West Bengal, India, the preliminary results of the "climate modelling" were presented. In its first phase the study plans on mapping the "suitability of the tea growing regions" with the help of various "high resolution" mathematical climate modelling scenarios like GCMs.
Tea has a global value of an "agricultural commodity" which impacts cultural as well as commercial activities, while its production is dependent on "specific enviro-climatic conditions". Likewise, the said initiative would help in making more effective decisions in order to cope with the changing climate. As a result, it will enable better resource management, adaptation of sustainable methods in order to safeguard "future tea production". However, the said project also hopes to widen its perimeter in its next phase.
References:
http://www.tata.com/