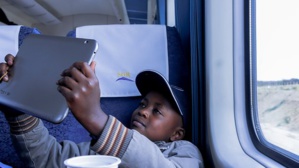 Dailycsr.com – 25 November 2017 – Novato Africa's consultant as well as the co-founder of BRCK Inc., Juliana Rotich, recalls an "oft-quoted line" which goes like this "Talent is evenly distributed, opportunity is not", whereby she relates the condition of the "most remote technology hub in Lodwar", which houses "Learning Lions and Startup Lions".
Kenya's Turkana County's capital is Lodwar, which is rapidly turning into an "important location" as nomadic young people as well as the younger generation from "pastoralist communities" meet here to receive education followed by a job. The area is connected with 3G line coverage from the "National Fiber Optic cable", although the entire area has not been covered under the same service yet, which means that the issue of connectivity very "basic at best".
In Rotich's words:
"I had the honor of speaking at the opening of a new building for self-directed learning, where I got to hear about the journeys of Learning Lions students who learned how to create websites and multimedia work, 3D modeling, and animation and design — just a few courses offered at Learning Lions".
Talking about what basic opportunity can do to talents, Rotich added:
Even with basic connectivity, Learning Lions showed me that connectivity creates opportunity. Knowledge becomes more accessible, so students can complement the instruction they receive with online knowledge and additional training. Students can also connect with online communities in their field to learn more".
Under Cisco's "Global Problem Solvers", the trend is creating new paths, as Rotich felt honoured to address Learning Lions' graduation ceremony last year, wherein she came across an enthusiastic youth crowd "ready to advance their skills". The crowd consisted of individuals like "Isaiah Mutekele and Enomat", who became "Startup Lions entrepreneurs and were finalists in the first ever Aeromobility startup competition in East Africa".
Young people "honing their skills" through training to turn themselves into entrepreneurs is something that "encourages" Rotich. Associating with Learning Lions has made it clear to her that Turkana harbours talents, just like talents can be found in New York or in Nairobi. Therefore, she concluded that "talent is evenly distributed, but opportunity is not".
Furthermore, Rotich added:
"That's why I'm proud to partner with Cisco to help extend opportunity to as many hubs, locations of learning, entrepreneurs and global problem solvers as possible. The Cisco Global Problem Solver Challenge is just one of many such opportunities to show how the ideas, technologies, and solutions of young innovators can help benefit the economy, society or environment".
Learning Lions' association opens up a possibility of seeing "what connectivity, knowledge and opportunity can bring forth", while Rotich also hopes of not only supporting but also of elevating "the work of young people in Kenya" as well as across the globe.
Rotich also goes on to inform:
"If you're a student or recent graduate with a technology solution that could make an impact on the world, apply for the Cisco Global Problem Solver Challenge
here
. With $300,000 in prizes to accelerate your product or solution, now's your chance to truly digitize and do more good".
The last date of submitting your solution is December 1, 2017.
References:
3blmedia.com