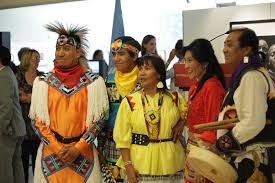 Not long ago, Veronica Big Plume (Sweetgrass Woman) donned a cap and gown and walked across a stage at Mount Royal University's graduation ceremony. She graduated with a Bachelor of Arts in sociology, but she has also been a member of the Medicine Pipe Society and the Beaver Pipe Society through the Siksika (see-seega) community since 2014.

She and her brother have twice sponsored the Tobacco Dance, a traditional event for planting and harvesting tobacco on the reserve just east of Calgary, Alta., that spans several months, follows the moon's cycles, and includes ceremonies that can last for many hours. Veronica, on the other hand, is hesitant to answer when asked if she is an Elder.

"When I think about a traditional Elder, I think about my holy grandmother," she says, though, according to protocol, she's earned her traditional Elder status through knowledge transfers. "People don't expect me to be a traditional Elder, but it's one of the most fulfilling experiences of my life."

The difference between a traditional Elder and an Elder is that a traditional Elder owns bundles (a collection of medicines—tobacco, sage, cedar, and sweetgrass—and animals used in ceremony) and has ceremonial rites to own and transfer those bundles to others. An Elder, on the other hand, has age and wisdom but does not necessarily have the right to bundles and transfers.

Veronica works as an advisor with Suncor's Indigenous and Community Relations team, where she advises on culture and reconciliation. Veronica is Cree from Sunchild First Nation in Treaty 6 territory, but she follows Blackfoot protocol and lives with her family in Treaty 7 territory.

Traditional Elders like Veronica are important because Indigenous Peoples have historically been prohibited from practicing their traditional ways of life, which include ceremonies. Knowledge Keepers and Elders are now critical to the preservation and promotion of Indigenous worldviews.

Veronica has the authority to facilitate protocol within the Sundance Lodge, a traditional Indigenous ceremony that promotes spiritual healing. Veronica was supported as a secondary grandmother during one of these ceremonies.

"Our holy grandmother is much older, and she's not as nimble as she once was," says Veronica. "Some things that she forgets, I help her remember, and some things that she cannot do, like get up and work with a bundle, I help with that."

Veronica has worked at three Sundance Lodges on the Siksika reserve, including one this summer.

"There was a time in my life that I was mixed up. For a while, I was out here like a tumbleweed. But my brother swooped me up and got me back into shape. Coming back to ceremony totally helped me. I love it."

Veronica joined Suncor through its Indigenous Student Program and shared cultural teachings with company leaders prior to accepting her current position. She believes she is valued not only for her professionalism and expertise as an advisor, but also for her Indigenous identity.

"I've had many amazing opportunities since being a summer student here," says Veronica. "I probably wouldn't have made it to where I am today if it weren't for the support I received from my colleagues. I get overwhelmed with gratitude sometimes."

Veronica's story, as well as the stories of many other inspiring Indigenous People from northern Alberta to St. John's, Newfoundland and Labrador, and everywhere in between, can be found in the Pathways magazine 2022 edition. More information can be found on our Pathways Magazine page. Only available in English.