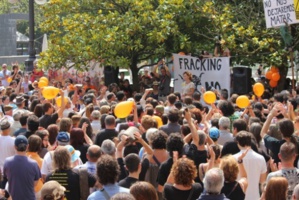 The introduction of fracking – a technique in which water along with chemicals and sand are pumped in at very high pressures into shale rocks so as to release the trapped oil and gas embedded in them –has resulted in mass organized protests in Spain. Thousands upon thousands of people have come together to protest the introduction of fracking.
"We are all different kinds of people, local inhabitants, who love our land and want to protect its biodiversity," says Hipólito Delgado an activist with the
Asamblea Antifracking de Las Merindades
, a county in the northern province of Burgos.
A subsidiary of Canadian oil giant, BNK Petroleum,
BNK España
has applied for permits so that they can drill for 12 exploratory wells. They have yet to start operations as they still awaiting environmental impact assessment, which is mandatory by law.
More than 4,000 people had gathered and had demonstrated in the town of Medina de Pomar, which is located in the province of Burgos, on the 3
rd
of May, demanding that the government refuse permits for these exploratory wells. The cause for their demonstration is that these fracking operations pose a significant threat to human health as well as to the environment.
According to the Ministry of Industry and Energy, although permits for the same has yet to be issued in Spain,
70 permits for exploration
of shale gas have been sanctioned with 62 permits in the queue. As per Carmen González, an activist, "Thanks to the fight put up by local inhabitants," permits for exploration in the northern region of Cantabria was cancelled in February 2014.
As per the activists, fracking pollutes underground water supplies with chemicals and releases methane gas which hugely contributes to global warming. Methane gas is twenty five times more potent than carbon dioxide as a greenhouse gas and its release from the rocks could cause seismic activity.
As per geologist Julio Barea, a spokesman for
Greenpeace Spain
, "There are more and more negative reports on fracking. [And in Spain there is] "complete social and political opposition to the technique, which no one wants." However, José Manuel Martínez Soria, the Minister for Industry and Energy said that fracking will indeed be introduced "as long as certain conditions and general requisites are fulfilled."
In the previous year, 20 political parties including the main opposition party – the Spanish Socialist Workers Party (PSOE), came together to sign into law a special legislature which bans fracking since "because of its irreversible environmental impacts." Only four parties, including the governing People's Party, refrained from signing the accord.
Companies who are interested in fracking are naturally downplaying the risks and the dangers involved in fracking operations.
Daniel Alameda,
Shale Gas España
's director general is of the view, "Like any activity it involves risks, but the technological advances make it possible to minimise them." Interestingly Shale Gas España, is a lobbying group for prospectors in Spain.
He went on to explain that these companies "are totally aware that they have to respect the environment," arguing that it is "technically impossible" for fracking to pollute aquifers since the hydraulic fracturing takes place some 3,000 metres below the underground water reserves, and the wells are isolated with a protective barrier of steel and cement.
Samuel Martín-Sosa, an activist, however, counters that argument saying, "It's a load of eyewash to say fracking doesn't pollute." To support his point of view, he mentions the fact that a US court in Texas, has already ruled against fracking ordering oil companies to pay punitive damages to a family who have suffered numerous health problems because of the proximity of a number of natural gas wells.
With regard to seismic activity cause by fracking, Shale Gas España denied any link between the two. "We don't cause earthquakes. We have all of the tools necessary to ensure that the activity does not pose a threat to local residents or to the companies themselves," said Alameda.
However, last year the
Geological and Mining Institute of Spain
had warned that fracking could not only pollute the water, but make it radioactive as well. It could pollute aquifers and the atmosphere, and cause earthquakes.
Lawsuits, Martin points out, never make it to trial since these companies invariably reach an out of court settlement with the plaintiffs and ensure that these settlement papers contain confidentiality clauses which prevent them from speaking out.
In July 2011, France became the first country in the world to ban fracking. Since then, sixteen other European countries have followed suit. However UK and Spain along with 10 other European countries allow fracking.
According to data available from the
2011-2020 Energy Efficiency and Savings Action Plan
, Spain imports 80% of its energy. Alameda now argues that shale gas would reduce Spain's energy dependency, create jobs, and improve the country's trade balance.
However, Martín-Sosa of Ecologistas en Acción counters that argument with "the way forward is not the extraction of gas; we can't allow the continued burning of fossil fuels." What is needed is "a change in energy model" starting with the replacement of fossil fuels by renewable energy sources. However, he points out, the ground reality is that renewable energy "faces more hurdles than ever" from the national government.
In the last two years, 4 out of 17 "autonomous communities" of Spain, have passed laws banning fracking. But the central government has introduced changes in the authority over the development of fracking, which allowed regional laws to be revoked by a Constitutional Court.
What is needed is to ban fracking and not make attempts to regulate it says Martín-Sosa,
References:
http://www.ipsnews.net/2015/06/growing-mobilisation-against-introduction-of-fracking-in-spain/