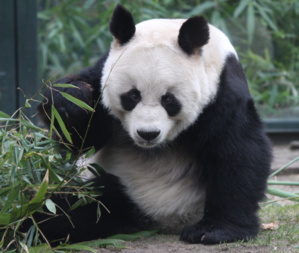 Dailycsr.com – 31 October 2015 – Seagate Technology plc is counted among the global leaders in providing "storage solutions", whereby the company stated that it is going to start "Seagate Giant Panda Habitat Monitoring and Restoration Demonstration Program in China's Western Mountainous Areas" at the Shaanxi Heihe National Forest Park. The said effort will be collaborated with World Wildlife Fund.
Seagate invites everybody including societies, business organisations and public groups to contribute to this effort of protecting the "pandas and their habitats" along with "other wild species". Likewise, it is an attempt to harmonise the balance between "ecological protection and sustainable development".
Moreover, BusinessWire writes:
"The Giant Panda habitats in Shaanxi, Sichuan and Gansu provinces are areas with rich biological diversity in western China and important areas for water and soil conservation, carbon sequestration, and are also major sources of energy for the surrounding regions. Four protected areas (Sichuan Xiaohegou Nature Reserve, Shaanxi Zhouzhi National Level Nature Reserve, Heihe National Forest Park, and Gansu Duoer Nature Reserve), will be selected for the demo project with the expectation of enhancing giant panda habitat management, accumulating experience for habitat monitoring and restoration in larger areas".
The project will involve construction and improvement in the process of "data acquisition and analysis ability of the conservation units". Likewise, with the help of monitoring facilities the threatening causes will be identified and pertinent measures will be taken to rectify the same. The final endeavour carried out by the project will be performing "targeted preventions and countermeasures".
Furthermore, there are plans of installing "infrared camera monitoring" system in the panda habitats along with keeping vigil on "human disturbance" and mitigation issues to conducted "habitat restoration". Seagate security will be deployed at the park in order to enhance the "surveillance solution" towards human disturbance.
Seagate Technology's "cloud and enterprise OEM business" Director, Paul Qian comments:
"We expect to open up a new perspective for biological diversity protection by supporting the WWF in this Giant Panda Project. In light of the successful experience of flagship species protection like the giant panda, we hope to further promote the biological diversity protection in China, contributing to worldwide biological diversity protection."
The infrared camera system used in monitoring wild animals has been widely adopted in the recent years. The technology is equipped to work without assistance in the wild "for a long time". This way, the deficiencies involved in the "traditional investigation techniques" are taken care of, while data collection becomes an easier job.
WWF China's Executive Director of Programmes, Liu Xiaohai remarks:
"WWF welcomes technology companies like Seagate to participate in panda conservation and biodiversity protection. New technologies and ideas can bring a fresh perspective to the issue. New partners tend to bring us new ideas and thoughts and we hope such cooperation can help bring the effect of 1+1>2, becoming a new start of our work".
References:
www.businesswire.com