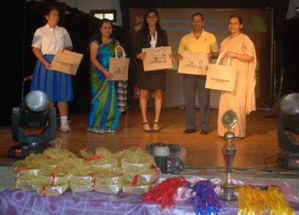 Dailycsr.com – 11 November 2015 – Schools are the ones who can take forwards the initiative started by "Zimmedaar Nagrik Zimmedaar Shaher" which is "going places".
The said initiative is a unique attempt to raise "awareness on environmental issues", whereby the "Sacred Heart Convent School along with Carmel Junior College" designed and created schools bags for students made out jute.
The celebration of the "Equilibrium 2015 Fest" at the Sacred Heart Convent School became the launch pad of the jute bags, the inauguration took place in the hands of the principal of the "Sacred Heart Convent School", Sister Mridula, who was joined at the podium by the divisional manager of "corporate communications & event management", Rajesh Rajan, Environment Club's "convener of equilibrium", Samarpita and the students.
The Sacred Heart Convent is situated at Jamshedpur and is the first on in the town to adapt this environmental friendly approach. The bags will be distributed among the students, who carrying them will become each an ambassador of environment whereby further conveying the "message at home" and at large to the society. There will be a distribution of total two thousand jute bags.
In fact, following the footsteps of Sacred Heart School, the Carmel Junior College also joined in the launching of "jute bags" among its school children. Moreover, Carmel Junior College will also offer "jute carry bags for water bottle" beside the jute bags. The principal of Carmel College, Sister Lini distributed the bags among the students and their parents, whereby six thousands of them were given to the student as half of them were jute bags and the other were jute water bottle carrier bags.
While, Tata.com informs that:
"Ms Sukanya Das from Jusco coordinated and facilitated with both the schools for designing and procurement of the bags. Jusco would look forward to have other schools as well to implement this initiative and make Jamshedpur a 'No Plastic Town'".
References:
www.tata.com