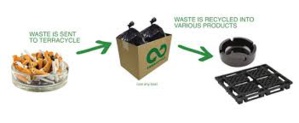 Dailycsr.com – 05 August 2015 – Reynolds Group of Companies' Santa Fe Natural Tobacco Co. has been diligently fulfilling its responsibilities towards "environmental sustainability" whereby it has taken a "step further" by introducing and implementing "TerraCycle's Cigarette Waste Brigade® program".
The company shook hands with "TerraCycle" towards the end of 2012. The latter is a leading problem solver in regards to "hard-to-recycle materials". The New Orleans based Santa Fe Natural Tobacco Co. led set out to tackle the "cigarette butt litter". Consequently, within a span of two years the city became the first one in the country which took part in a "city-wide program for cigarette butt recycling".
K.A.B terms cigarette butts to be the "most littered item" in the country whereby sixty five percent of the said litter are being "disposed of improperly". It is here, that the interventional efforts of the Cigarette Waste Brigade® brought in some positive results, prior to which the properly disposed "cigarette waste" also ultimately "wound up in landfills". Keeping this background in mind, when one looks at the TerraCycle programme of recycling cigarette litters, it appears to be "another environmental breakthrough".
TerraCycle, funded by the SFNTC, initiated "a national program" wherein the cigarette butts were collected for recycle. Consequently, the possible landfills are being converted by the programme called "Cigarette Waste Brigade®". The sponsoring of this programme allows the company of SFNTC to be responsible for their products' end life, whereby also taking care of the carbon footprints of its competitors. The programme was launched at a national level, which during its initial six months "attracted" a total number of volunteers that roughly equalled to three thousand. These people lent their hands in collecting "more than 2 million cigarette butts", which were then recycled. Likewise, the environment was saved from being polluted. The SFNTC's Marketing and sales head Cressida Lozano stated that:
"You don't have to walk or drive very far to see that smokers often discard cigarette waste in ways that litter the environment. Our company has been committed to environmental sustainability since we were founded 30 years ago, and we're proud to be the exclusive sponsor of an innovative program to reduce and recycle cigarette butt litter, regardless of which manufacturer made the cigarettes."
In fact, the founder and the C.E.O of TerraCycle, Tom Szaky says about the scope of such waste recycling programme:
"The Cigarette Waste Brigade® has the potential to transform public spaces across the country, drastically reducing the amount of litter that is discarded. Furthermore, the Cigarette Waste Brigade® provides a solution for the filters that are properly disposed of in an ashtray or can, but could otherwise end up in a landfill."
Moreover, during the "Ocean Conservancy's International Coastal Cleanup" which is celebrated annually has gathered "52 million cigarette filters" being one of the "number one item" to be recovered over the last twenty five years. In fact, although many believe that cigarette butts fall under the bio-degradable category; in reality they take a long time even to break down. Likewise, they are a constant source of pollutant that are wide spread in various public and private places. Talking about the first of its kind effort at recycling cigarette butts, Szaky says:
"This is one of the most exciting developments in TerraCycle's history. As a company committed to recycling waste streams that others deem worthless or unsavory, cigarette waste helps to promote our belief that everything can and should be recycled!"
References:
http://www.reynoldsamerican.com/environmental.cfm?plank=EnvironmentalSustainability2