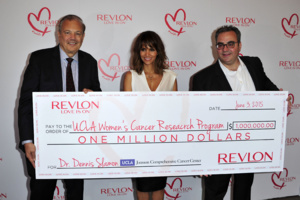 Revlon has recently announced a contribution of $1 million to the UCLA/Revlon Cancer Research Program, furthering its commitment towards developing solutions to eradicate women's cancers. Revlon's Global Brand Ambassador Halle Berry along with Revlon Chairman Ronald O. Perelman and CEO Lorenzo Delpani revealed this donation at a 'LOVE IS ON' celebratory luncheon.
The luncheon was held on June 3
rd
at Los Angeles, in honor of Dr. Dennis J. Slamon, M.D., Ph.D., and Director of the Revlon/UCLA Women's Cancer Research Program at UCLA's Jonsson Comprehensive Cancer Center, for his outstanding achievements in cancer research.
This effort is the first step towards Revlon's new philanthropic initiative towards women's health concerns in keeping with its 'LOVE IS ON' mission to inspire love globally.
According to Lorenzo Delpani, CEO of Revlon, Inc., "It is our goal that this donation will help to enable Dr. Slamon and his team to continue their research into major cancer breakthroughs that will lead to lives being saved, ultimately finding a cure."
Revlon's relationship with Dr. Slamon started in 1990; Ronald O. Perelman and Revlon funded the research that was needed to bring the cancer treatment drug Herceptin to market. Before Herceptin was introduced, breast cancer patients with high HER2+, faced grim chances.
When used with combination with other therapies such as radiation or chemotherapy, Herceptin reported high survival rates and reduced cancer-recurrence rates among breast cancer patients. Even side effects such as nausea and hair loss were visibly reduced.
A study published in
New England Journal of Medicine
in 2011 found that treating HER2+ early stage breast-cancer patients with a combination of chemotherapy and Herceptin significantly reduced recurrence rates by half in specific types of early HER2+ breast cancer and by one-third in metastatic HER2+ patients. In 2014, a large study led by researchers at the Mayo Clinic in Jacksonville, Florida, and published in the
Journal of Clinical Oncology
, found that adding a year of Herceptin to standard chemotherapy for HER2+ patients improved overall survival by 37% and boosted 10-year overall survival rates from 75% to 84%.
Following the success of Herceptin, Dr. Slamon spearheaded the development of the radical drug Ibrance. Ibrance has been shown to register very optimistic results in patients with ER+/HER2- types of breast cancer. The United States FDA has already given its approval in January of this year. Ibrance has been quite effective in blocking tumor growth; it also allows metastatic longer life spans.
Since 1990, Ronald Perelman and Revlon, through collaboration with the Entertainment Industry Foundation and Lilly Tartikoff, have distributed $49 million to the Revlon/UCLA Women's Cancer Research Program. These funds have helped propel cancer research forward.
About Revlon:
Revlon is a global brand developing products across segments such as cosmetics, hair products, beauty tools, men's grooming, skin care, fragrances etcetera. Revlon develops exclusive products for both
professional
and
consumer
. Revlon invests heavily in promoting product quality, R&D, product innovation and marketing of its products all across the globe.
Information on the different brands under Revlon can be found on the following websites:
www.cnd.com
,
www.mitchum.com
,
www.revlonprofessional.com
,
www.almay.com
,
www.americancrew.com
and
www.revlon.com
.
About UCLA's Jonsson Comprehensive Cancer Center
The UCLA Jonsson Comprehensive Cancer Center is engaged in prevention, detection, research, treatment, control and education. It employs over 450 researchers and clinicians. It is one of the largest cancer research centers in the country. The Jonsson UCLA is dedicated in applying basic sciences to develop comprehensive clinical studies.
Visit its web site at
http://www.cancer.ucla.edu
, to learn more about the center.
References:
http://www.businesswire.com/news/home/20150605005706/en#.VXPR29Kqqko