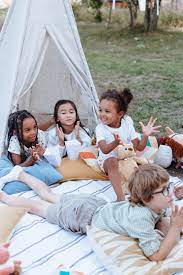 Children at a book launch blurred the line between fiction and reality in a delightful moment of improvisation.
They had gathered to celebrate the June 2022 release of the picture book Ice Fishing with Nimkii, a story written about and for the children of the Wiikwemkoong First Nation on Ontario's Manitoulin Island.
In the book, Nimkii—inspired by the real Nimkii Lavell, the Wiikwemkoong Board of Education's land-based learning lead—teaches Anishinaabe children how to ice fish with a gill net on Lake Huron.
The book contains words in Anishinaabemowin, an endangered Ojibwe language spoken in the Great Lakes region of Canada and the United States.
When Nimkii got to the part in the story about the children counting fish, the children at the book launch began counting along in Anishinaabemowin, unrehearsed and unprompted.
"It was such a cool moment," recalls Fabrice Grover, executive director of
Innovations for Learning Canada
, the literacy not-for-profit that published the book. "You could see the joy of these kids when they were pronouncing those words. They're learning to read, and learning their language at school. It was really powerful."
Ice Fishing with Nimkii was published by IFL as part of a series of e-books produced for and in collaboration with partner communities across the country, the majority of which are Indigenous. The non-profit expects to complete 30 custom titles by the end of the school year and plans to launch an online library that will provide free access to the collection to readers all over the world.
Enbridge is an enthusiastic supporter of IFL, which is also active in the United States and the United Kingdom. Literacy is the foundation of lifelong learning and education, and with Canada's National Day of Truth and Reconciliation coming up on Friday, this unique e-book project takes significant steps to help children and youth develop their potential while also honoring and protecting their culture.
We recently awarded IFL in Canada a C$62,000 Fueling Futures grant to support its high-impact, one-on-one tutoring and read-with-a-virtual-coach enrichment programs, as well as the development of two new e-books. We also provided $66,000 in funding in the United States to support IFL's tutoring programs and storybooks.
"In Canada, there are 100,000 kids every year who don't complete Grade 3 reading at their grade level," Grover explains, adding that literacy rates in early grades plummeted because of school closures during the COVID-19 pandemic.
A child who does not read proficiently by the end of Grade 3 has a fourfold lower chance of graduating from high school.
IFL's two tutoring programs are currently in use in Alberta, British Columbia, Ontario, and Yukon schools, with plans to expand to the rest of the prairie provinces and the East Coast during the 2022-23 and 2023-24 school years.
Children aged 5 to 7 years old participate in the high-impact tutoring program, attending daily, five-minute sessions at school with an IFL Early Literacy Interventionist recruited from the community and trained to deliver high-frequency phonics instruction on IFL's platform.
Once children are able to decode three-letter words, they are paired with a virtual reading coach in IFL's enrichment tutoring program, which pairs young students with volunteers to read for 30 minutes per week. Notably, 75% of the students with whom IFL works are Indigenous students who live on reserves.
Grover describes the e-book project as a supplement to tutoring, assisting communities with two needs:
• urgently assisting children in catching up on their reading.
• advancing language revitalization, one of the Truth and Reconciliation Commission of Canada's 94 Calls to Action
"Books should provide kids with an opportunity to feel proud of their culture and connect them with languages that are part of their heritage, but are going extinct," he explains. "Often, schools lack early reading resources that reflect the realities of these communities. For kids to feel excited about reading, the themes need to be relevant to them so they can see themselves in the stories.
"The e-books also provide an opportunity for non-Indigenous reading coaches and students to explore the original language and culture of the communities together."
That's the gap IFL aims to bridge.
Notes Grover: "We aspire to engage communities to the fullest extent. It's not enough to just help kids learn to read in English. We have an opportunity to aid in local language revitalization, making our efforts to advance literacy even more powerful."