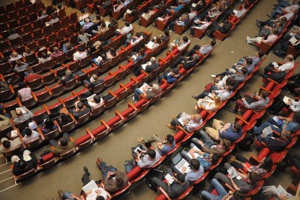 Dailycsr.com – 28 May 2018 – Recently, the Sustainable Brands have come up with the entire schedule and programme details of the "Activation Hub at SB'18 Vancouver". The event will take place from June 4, 2018 to June 7, 2018 at Vancouver's "Vancouver Convention Centre", in British Columbia.

The above mentioned hub is the heart of the Vancouver conference that hosts the attendees as well as the solution-providers and facilitates collaboration and co-creation on "market sector innovations". Moreover, this gathering enables networking with current as well as "future partners".

Twelve different pavilions will dedicated to various market sectors, namely "Good Food, Good Fashion, Good Technology, Good Materials & Packaging and others", in this year's Activation Hub. The event will start with an "Opening Night Reception in the Activation Hub", while every pavilions will have "scheduled programming, business leader meet-n-greets, and Innovation Labs" which will be facilitated with the help of experts from "Forum for the Future, Futerra, Sustainability, Elevator, University of British Columbia and others".

Here is a list of highlights of the pavilion, as mentioned by 3blmedia:
P&G will host the 'Good Growth' pavilion and explore how large, growing brands can inspire and promote responsible consumerism while still growing their business. P&G will also be hosting a youth summit, inviting local youth to discuss the issues of oceans plastics, in preparation of World Ocean Day. The pavilion will also feature American Forests, World Scouts, CarrotNewYork, The Embedding Project, The Ocean Project, The Recycling Partnership, Arbor Day Foundation, and Makersite.
Braskem will serve as anchor host for the 'Good Materials & Packaging' pavilion, focusing on how brands are reducing packaging and incorporating circular economy practices into their everyday products. The pavilion will also feature BillerudKorsnäs, Vinyl Business Sustainability Council (VSBC), Boothster, Keurig Green Mountain, and Recycle BC.
A 'Good Cities' pavilion, hosted by PwC, will discuss how to make cities healthier places to live as they continue to grow. The pavilion will also include Vancouver Economic Commission, who launched a Startup City: Impact program to connect attendees from SB'18 Vancouver with up-and-coming social and environmental entrepreneurs from Vancouver.
A 'Good Travel & Leisure', hosted by Living Elements, will explore how the travel industry can incorporate sustainable practices. The pavilion will feature SoulBuffalo, who will bring their glamping tents onsite for attendees to collaborate in.
A 'Good Earth' pavilion will explore how brands are helping reduce their impact on the environment, focusing on oceans and forests, featuring The Plastic Bank, One Tree Planted, EREMA Plastic Recycling Systems, The Earth Group, Canadian Council of Foresters, Alive & Awake, World Tree and News Deeply as Media Partner.
A 'Good Fashion' pavilion, featuring UNIFI, Inc., Savers | Value Village, Bank & Vogue, Green Story, Looptworks, S'well and Biji Biji Ethical Fashion. UNIFI will bring back their popular Repreve truck to the Activation Hub, an interactive, walk-through truck that showcases how peat is turned into recycled materials while giving attendees the chance to win upcycled clothing. S'well will be distributing free water bottles to all conference attendees.
A 'Good Food' pavilion, focused on shifting tides in our food system, will feature Clif Bar, Nestlé, Padilla | Food Minds, Spoiler Alert, US Farmers & Ranchers Alliance (USFRA), Eagle Protect PBC and Trust in Food™ as a Media Partner. Nestlé will present attendees with ice cream and discuss how they're working to support bee habitats through their widely-used ingredients.
A 'Good Retail' pavilion will explore how retail brands are optimizing sourcing and navigating emerging issues in the retail industry. The pavilion will feature the Retail Industry Leaders Association (RILA), LUSH, Starbucks and Smarter Sorting.
A 'Good Finance' pavilion focused on cutting-edge financial models will host EY, iCompli, Tides and Corporate Knights as a media partner.
A 'Good Workplace' pavilion will explore how brands are attracting and retaining top talent by innovating their company from the inside out. The pavilion will feature Cupanion, Diversey, and Porpoise.
A 'Good Supply Chain' pavilion will showcase brands and solution providers that are improving transparency and accountability in the value chain. The pavilion will feature BullFrog Power, Intertek, Segura Weir-TS, The Sustainability Consortium, Trex Company, Water for People and WAP Sustainability.


References:
3blmedia.com