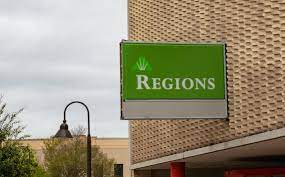 In a stamen Regions Bank announced its recognition as a 2024 Military Friendly® Employer by Military Friendly®, an entity that assesses the dedication of corporations towards creating professional opportunities that capitalize on military experience.

Regions Bank has been honored with the Silver 2024 Military Friendly® Employers designation. This prestigious Silver Designation is bestowed upon corporations that fulfill the criteria and score within 20% of the 10th ranking Employer in their category. This honor is achieved by only a select group of corporations. More information can be found in this profile.

Clara Green, the leader of Diversity, Equity & Inclusion at Regions Bank, expressed gratitude to all military personnel and affirmed the bank's commitment to fostering a military-friendly environment where everyone can prosper. She highlighted the unique strengths, talents, and knowledge that veterans and their spouses bring to the bank, which are invaluable in serving their customers and communities. The bank is extremely proud to have received this recognition once again.

Regions Bank supports military-friendly career opportunities in several ways:
The bank has initiated a career transition program named BRAVE – Building Regions Associate Veteran Experience – specifically designed to assist veterans and military spouses during their transition to the civilian workforce.
The bank is a participant in the Military Spouse Employment Partnership (MSEP), a Department of Defense career program that links military spouses with hundreds of member employers who pledge to recruit, hire, promote, and retain military spouses.
Regions Bank collaborates with the national program Hiring Our Heroes, which aids in connecting transitioning service members and their families with career opportunities.

"Organizations earning the Military Friendly® Employers designation have wholeheartedly invested in comprehensive and impactful initiatives that bring about positive, life-changing results for our valued service members, dedicated military spouses, and esteemed veterans within their ranks," said Kayla Lopez, Senior Director of Military Partnerships at Military Friendly®.

"We salute these exemplary employers who raise the bar and understand that hiring military personnel is not merely an act of goodwill but a testament to a standard that truly embodies sound business wisdom. Their steadfast commitment to integrating military personnel into their workforce not only reflects their compassion but also underscores their business acumen."

The Military Friendly® Employer designation is awarded to institutions after a thorough evaluation process that involves both public data sources and responses from a proprietary survey. More than 1,200 companies took part in the 2024 Military Friendly® survey.

The methodology, criteria, and weightings were established by VIQTORY, with valuable input from the independent leaders of the Military Friendly® Advisory Council, who are experts in military recruitment. The final ratings were derived by combining an organization's survey score with an evaluation of the organization's capacity to meet benchmarks for Recruitment, New Hire Retention, Employee Turnover, and Promotion & Advancement of veterans and military employees.

Regions Bank will be featured in the 2024 Military Friendly® Employers in the Winter edition of G.I. Jobs® magazine and on the MilitaryFriendly.com website.