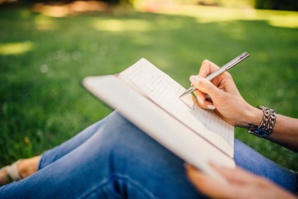 Dailycsr.om – 04 March 2020 –It is known that writing exercises with "pen and paper" benefits the brain but its effects can also be felt in the heart and soul, says Domtar. As per researchers, practicing "expressive writing", in other words weaving ones emotions and thoughts in words, can have "mental and emotional benefits" for example helping toreduce "stress, anxiety and depression" leading to "greater clarity and focus".

Moreover, expressive writings can also result in physical benefits; therefore, it is only to ones advantage that we practice expressive writings. In fact, looking at the trends one can notice that paper trends have made a come back with journaling and handwriting for keeping daily journal record can prove "calming and peaceful at the end of a busy day", while it can also be a respite during "an emotionally difficult time". In the words of the Communications Manager for "paper advocacy" at Domtar, Tammy Tufty:
"Especially with social media, a lot of people are recognizing that being digitally connected is eating up a lot of time and energy. They're seeing that maybe we should go back to journaling, reading more books and just being more present."

A "groundbreaking research" onthe benefits of journaling was carried out byJames W. Pennebaker, the professor of Regents Centennial at "the University of Texas at Austin", who holds a "Ph.D. in psychology", wherein he showed that expressive writing has multiple benefits. The exercise has positive effects on our mental wellbeing while it also translates into "physical benefits" such as "improved immune function and faster healing". The said research looks into the scientifically proven benefits of journaling while we heard many stories about writing helping people to get better emotional grasp. In a blog post of ADDitude, a blogger added:
"Writing has a healing effect, like a nice massage. It is comforting, like a cup of tea or a warm fireplace on a chilly night. … Journaling helps me make sense of happy and sad moments."

ADHD problems can be tackled more efficiently through writings:
"Typically, we problem-solve from a left-brained, analytical perspective. Sometimes the better answer is found by engaging the intuition that comes from the right brain. Writing unlocks this side of the brain and brings an opportunity for unexpected solutions."

Furthermore, one need not make coherent sentences to get the benefits of writing, even scribbling on paper could help one channelize focus and feel a "sense of clam". In Tufty's words:
"I've seen it with my own kids and with other professionals. While they're doodling or drawing, it seems like they're not paying attention, but actually they are because that activity is helping them stay focused."

Therefore, choosing the paper or the colour with which you want to write can also add to the "easy and enjoyable"experience, adds Domtar.
"Maybe it's a gel pen that writes smoothly in a color you love, or perhaps it's a leather-bound journal that makes you smile when you touch the cover".

Pennebaker's work "on expressive writing and healing" continues to inspire "psychologists, counselors and other mental health professionals". Here are some of Pennebaker's"practical advice" for expressive writing, as mentioned by Domtar:
"Find a time and a place where you won't be disturbed. Pennebaker suggests picking a time at the end of your workday or before you go to bed, but really any time of day can work as long as you can write without interruption.
"Commit to writing for at least 15 minutes every day.
"Once you begin, write without stopping to correct spelling or grammar. If you run out of things to write before your time is up, you can repeat what you've already written.
"What you write and how you write it is completely up to you. There are no rules.
"When you have finished your expressive writing, you can save it, burn it, erase it, tear it up or shred it. Since your writing is for you and you alone, you can decide what to do with it".


References:
3blmedia.com