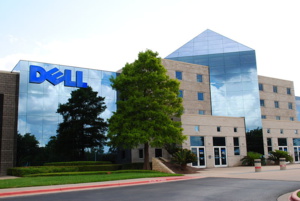 Source: commons.wikimedia.org; (CC BY-SA 3.0)
Dailycsr.com – 17 July 2019 – Dell Technologies has come out with its "FY19 Corporate Social Responsibility Report" wherein it has shown "early completion" many of "2020 Legacy of Good Plan". It said:
"You'll recall we established this plan back in 2013 to put our technology and talents to work where they can do the most good for people and the planet".

It has taken an "unwavering dedication" and hard work from the team of Dell all across the globe to demonstrate "tremendous progress" against the plan whereby achieving "early completion" for many of its goals while the rest are on track. Here is a list of these early accomplishments, as mentioned by Dell Technologies:
Reused 100 million pounds of recycled content, plastic and other sustainable materials in Dell Technologies' new products (achieved 2020 goal ahead of schedule).
Developed and maintained sustainability initiatives in 100% of Dell Technologies-operated buildings (achieved 2020 goal ahead of schedule).
Reduced 64% of product portfolio energy intensity footprint
Delivered 5 million service hours to communities globally through initiatives that focused on but were not limited to: Skills-based volunteering, mentoring students, and developing new nonprofit technology solutions (achieved 2020 goal of service hours).
Enabled eligible team members to participate in flexible work options and increased global participation to 60% (surpassed 2020 goal of 50%).
Achieved 89% or higher favorable responses in team member satisfaction globally (surpassed 2020 goal of 75%).
Allocated more than $3 billion dollars annually to diverse suppliers within supply chain programs and continued to qualify for the Billion Dollar Roundtable.
Rolled out company-wide foundational learning program focused on mitigating unconscious bias called Many Advocating Real Change (MARC) – with 100% participation from executives globally.
Recognized by LinkedIn as a 2019 Top Company, by FairyGodBoss as a Top 10 Tech Company according to women working at Dell Technologies, by the Human Rights Campaign's 2019 Corporate Equality Index as one of the best places to work for LGBTQ Equality (15 consecutive years) and by Ethisphere® Institute as a World's Most Ethical Company (6 consecutive years).
For reading Dell's "full letter" along with a letter from "Michael on all the successes" achieved over the last ten years, kindly click on the link given below:
https://corporate.delltechnologies.com/en-us/social-impact/reporting/fy19-csr-report.htm?linkId=69918163
Keeping this as the foundation, Dell realises that there is "more work to do" while societies are going to face many "looming challenges". Furthermore, Dell added:
"We are excited to be in such a strong position to close out the 2020 Legacy of Good Plan, shifting our attention on 2030 and the issues that will matter most to us over the next decade.
"So, we're introducing
Progress Made Real
– our Vision for 2030 that reflects our core purpose as a company to drive human progress".
References:
3blmedia.com