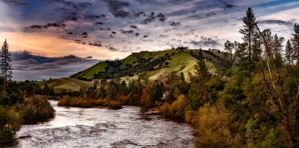 Dailycsr.com – 25 November 2016 – MillerCoors' Sustainability Manager, Jonas Smith along with the Chief Sustainability Officer of "Nestlé Waters North America" report that the forests in California are facing a crisis as they battle a "lethal combination" of global warming, wildfires, drought and pests, whereby the train of attackers have already killed sixty six million trees over the last six years' time alone.
The duo confirmed that the restoration work will not be an easy task, while "Gov. Jerry Brown and the Legislature" realised the magnitude as well as the importance of the task, whereby they allocated a sum of "$40 million in cap-and-trade funds". Simultaneously, president Obama paid a visit to Lake Tahoe, wherein he made an announcement of "$29.5 million" fund dedicated to "improve forest health" while bringing down the "catastrophic wildfires" threats.
According to the duo:
"They're prioritizing these investments because they know that California's forests are critical to our water supply. Forests help reduce erosion and recharge aquifers".
While government fund proves vital for the restoration, it does not seem to be enough for it requires "innovative thinking" which is supported by "private partners" in the form of expertise and resources. An example of such endeavour can be witnessed in the recent effort that was launched in the "Sierra Nevada", the latter being "one of the most important sources of water" that sustains the "drought-stricken California".
The said project is led by the "Nature Conservancy" which utilises over "10,000 acres at the American River headwaters" for testing methods to bring down forest fires and to boost the "water supply". Forests that are situated in the watershed of American River are "overly dense", which can be found throughout the Sierra. These forests also favours the growth of "brush and small trees", whereby multiplying the risks of triggering wild-fire sparks threatening property and lives alike which in turn affects the water quantity as well as quality flowing downstream.
Through this project, it will be tested to figure out whether "ecologically" based methods for thinning forests would "allow snowfall and rain to accumulate and replenish creeks and rivers". If the project turns out to be successful, then the same method could be applied elsewhere for improving "forest and watershed management".
As a "bellwether", this project will document the process of funding innovation required to secure the future of water with the support from the public as well as private sectors, like "Nestlé Waters North America and MillerCoors". While, Smith and Switzer informed:
"We are doing this because we know that while no one company or organization can solve California's water challenges, together we can and must take responsibility for the future of our communities and natural resources. With thoughtful investment supporting the creative ideas that will drive innovative solutions, we can secure the state's water future".
References:
http://www.sacbee.com/