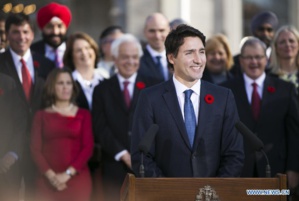 Dailycsr.com – 26 February 2016 – The Canadian Prime Minister, Justin Trudeau, is going to address the opening of "GLOBE 2016 Leadership Summit". The said gathering is scheduled to take place in Vancouver from the 2
nd
of March 2016 to the 4
th
of March 2016.
The three days event will be attended by over two thousand policy makers, leaders, corporate figures, environment experts and executive professionals, wherein various discussions on promoting "clean technologies", and exploring innovative and sustainable trends into "economic opportunities". The Chief Executive Officer at the GLOBE series, Mike Gerbis, said:
"The Prime Minister has stated that Canada will maximize the opportunities of the shift to a low-carbon economy. Business, NGO, and government leaders from around the world come to GLOBE to discuss how to maximize those opportunities and turn political commitments like those just made in Paris at COP 21 into solutions on the ground."
The "GLOBE 2016 Leadership Summit and Innovation Exposition" is a biennial event and is held at Vancouver, which welcomes policy, civil society and business leaders who are trying to "address pressing global challenges" with the help of technical and business solutions.
The Globe Series falls under the category of private companies with its headquarter located at Vancouver, Canada. Moreover, the company is working to create a "sustainable future" profile through "global, regional, and industry agendas". In order to view the entire conference, Kindly visit:
GLOBESeries.com
For further updates follow:
"@GLOBE_Series and #GLOBE2016"
References:
http://www.ethicalperformance.com/